Top 27 SaaS Marketing Agencies For Quality Lead Generation
Do you need help to unlock the full potential of your SaaS company in a crowded digital landscape? The question that often comes to the minds of SaaS entrepreneurs is this: How can we effectively market our software to the right audience and generate leads that convert into loyal customers? The answer lies in the power of SaaS marketing agencies.
In an era where the SaaS industry is flourishing, the need for specialized marketing strategies tailored to SaaS companies has never been more critical. That's where SaaS marketing agencies come into play, offering expertise, experience, and a laser-focused approach to promoting your software solutions.
If you don't know which one will be the best for your enterprise, we're here to help.
In this blog post, we're on a journey through the top 27 SaaS marketing agencies that have mastered the art of lead generation and SaaS marketing.
Whether you're a startup looking to make your mark or an established SaaS giant aiming to stay at the forefront of the industry, this comprehensive guide will provide insights into the agencies that can help you achieve marketing goals.
So, buckle up as we dive into the world of SaaS marketing agencies.
What is a SaaS Marketing Agency?
A SaaS marketing agency is a specialized marketing firm that caters to companies offering SaaS products. These agencies possess a wealth of expertise in developing marketing strategies tailored to the needs of SaaS companies. Their primary focus is to assist SaaS businesses in effectively attracting and retaining customers, enhancing their product marketing efforts, and ultimately boosting revenue.
SaaS marketing agencies provide a wide array of services that include content marketing, SEO, email marketing, social media marketing and paid advertising. Through these services, they craft and execute marketing campaigns that align with the unique characteristics and challenges of the SaaS industry. They aim to help SaaS companies stand out in the competitive market and develop a good online presence.
Thus, SaaS marketing agencies are like helpful friends for SaaS companies. They know much about digital marketing and creating content that works well for SaaS businesses. These agencies understand the special things that make SaaS different from other companies.
Benefits of Hiring a SaaS Marketing Agency
Here are some benefits of hiring a SaaS Marketing agencies:
1. Save Time and Money
Hiring a SaaS marketing agency is a real-time-saver. These experts know the ins and outs of marketing for SaaS companies, so you don't have to spend precious hours learning it. Plus, they often come with a team of skilled professionals, which can be more cost-effective than hiring and training an in-house marketing team. This means you can focus on what you do best—developing your SaaS product—while leaving the marketing to the pros.
2. Align Brand Messaging and Positioning
Getting your brand message just right is crucial in the competitive SaaS world. SaaS marketing agencies can help you create a consistent and compelling brand image. They ensure your messaging is clear, highlighting your software's unique features and benefits. This alignment boosts your brand's reputation and makes it easier for customers to understand your offer.
3. Track Relevant Analytics
Understanding how marketing efforts are performing is essential. SaaS marketing agencies have the tools and expertise to track and analyze relevant data, such as website traffic, user engagement, and conversion rates. Utilizing a data-driven approach assists in enhancing decision-making and optimizing marketing strategies to achieve superior outcomes.
4. Get Expert Lead Generation
Lead generation is the lifeblood of SaaS companies. Marketing agencies specialize in generating quality leads through various channels, including social media marketing and growth marketing strategies. They know how to identify and reach your target audience, increasing the chances of converting prospects into loyal customers.
Thus, partnering with SaaS marketing agencies provides various benefits, from saving time and money to ensuring your brand messaging is on point. They excel in leveraging digital marketing services to drive growth for your SaaS business, making them invaluable partners in your journey to success.
What Services Do SaaS Marketing Agencies Offer?
SaaS marketing agencies use various marketing tactics. These agencies are like a one-stop shop for all your marketing needs, specially designed for software companies. They offer a bunch of services to help SaaS businesses grow and succeed:
1. Content Marketing
SaaS marketing agencies excel at SaaS content marketing. As per the SaaS marketing strategies, they craft captivating articles, videos, and other content that not only showcase the brilliance of your software but also include SEO content marketing strategies. They ensure your message shines brightly in the digital world by making it clear, compelling, and optimized for search engines.
Additionally, these agencies are experts at content marketing link building, constructing a network of valuable and authoritative backlinks to enhance your website's credibility and visibility.
2. SEO (Search Engine Optimization)
SEO plays a crucial role in how visible your website is online.
This involves enhancing your website's content and layout to attain better rankings on search engines such as Google. When people search for keywords related to your software, effective SEO helps your website stand out in the search results. It can lead to more people finding your software online and potentially becoming customers.
3. Social Media Marketing
Social media is a powerful tool for interacting with your audience and building brand loyalty. SaaS marketing teams manage your social media accounts, generating and sharing content that resonates with your target audience. They also interact with customers, respond to inquiries, and ensure your software maintains a consistent online presence. Social media marketing helps keep your audience interested in your software by fostering a sense of community and engagement.
4. Paid Advertising
Paid advertising involves running targeted ads for your software on platforms like Google Ads and social media advertising platforms. These ads help you reach broader people and attract potential customers who may not have found your software through organic search. Paid advertising campaigns are strategically designed to maximize ROI and expand your customer base.
5. Email Marketing
Email marketing is a successful way to stay connected with your existing customers and nurture leads. SaaS marketing agencies craft and send emails informing customers about your latest features, updates, and promotions. You can create and maintain a loyal customer base by delivering valuable content directly to their inboxes and encouraging repeat business.
1. Analytics and Tracking
Understanding your marketing performance is crucial for making informed decisions. SaaS marketing agencies monitor and analyze key metrics such as website visitors, click-through rates, and conversions. This data helps you gain insights into what's working well and where improvements are needed, allowing you to refine your marketing strategies for good results.
2. Lead Generation
Lead generation is identifying potential customers. SaaS marketing agencies employ various strategies to attract and engage prospects, such as content marketing, lead magnets, and targeted outreach. The goal is to convert these leads into paying customers, ultimately fueling the growth of your software business.
3. Branding and Design
Consistent branding and professional design are essential for establishing trust and credibility in the market. Marketing agencies ensure that your brand identity is uniform and visually appealing across all your marketing materials, including your website, logos, advertisements, and collateral. This consistency helps you make a strong and memorable impression on your audience, reinforcing your professionalism and reliability.
The Best B2B SaaS Marketing Agencies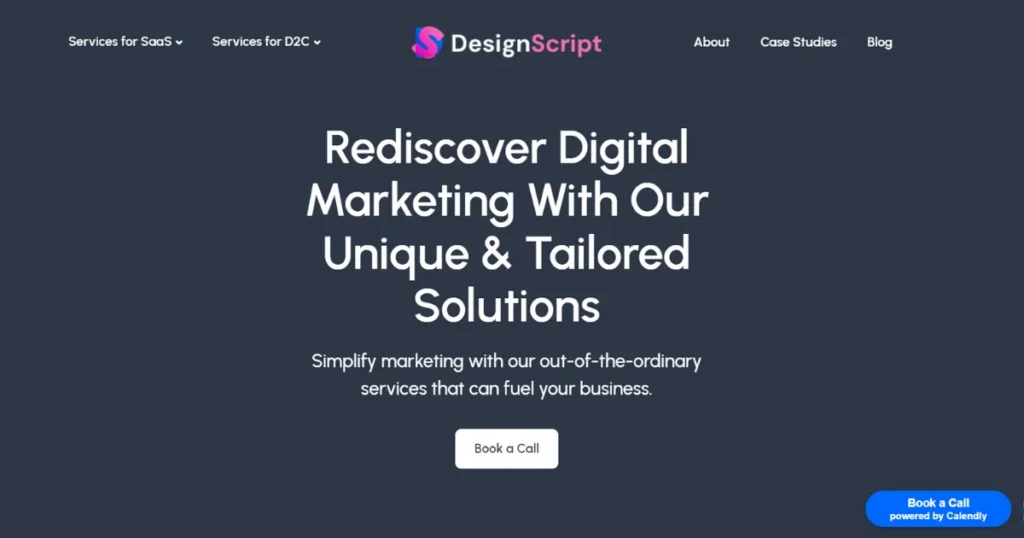 DesignScript is your ultimate solution for SEO, PPC, Content Marketing, and CRO (Conversion Rate Optimization) needs, specializing in serving SaaS and D2C companies primarily in the USA, UK, and India.
Key Features:
Helps achieve remarkable growth, taking a SaaS company from 0 to an impressive 100,000 in traffic within just 12 months.
Helps elevate website purchases from a modest 100 to a substantial 1,600 per month for a D2C brand.
Boasts of a dedicated team of experts proficient in performance marketing and SEO.
Crafts custom-tailored strategies with a sharp focus on clients' core objectives.
Ensures complete transparency through extensive monthly reporting.
DesignScript is an exceptional choice for businesses seeking exponential growth and visibility in the competitive B2B SaaS landscape.
2. Tilt Metrics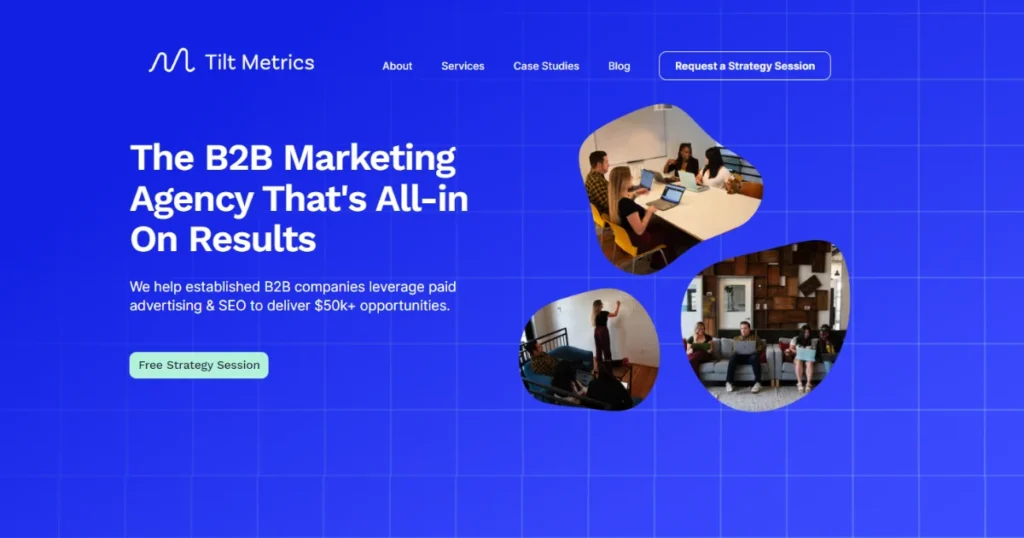 Meet Tilt Metrics, a small but mighty marketing agency. They're experts in helping B2B SaaS companies get noticed, build trust, and turn interested folks into happy customers. How do they do it? Well, they use a mix of two cool things: SEO and paid media.
You've probably heard that LinkedIn is where all the B2B action happens. But guess what? Tilt Metrics doesn't stop there. They can also help you set up automatic ways to find potential customers on Facebook, YouTube, Google, and even Instagram! Let's say you want to use Facebook and Instagram – they can create ads that make people sign up for your stuff whenever you want. And that's not all – they can also ensure new website visitors turn customers by making your web pages work even better.
3. Case Study Buddy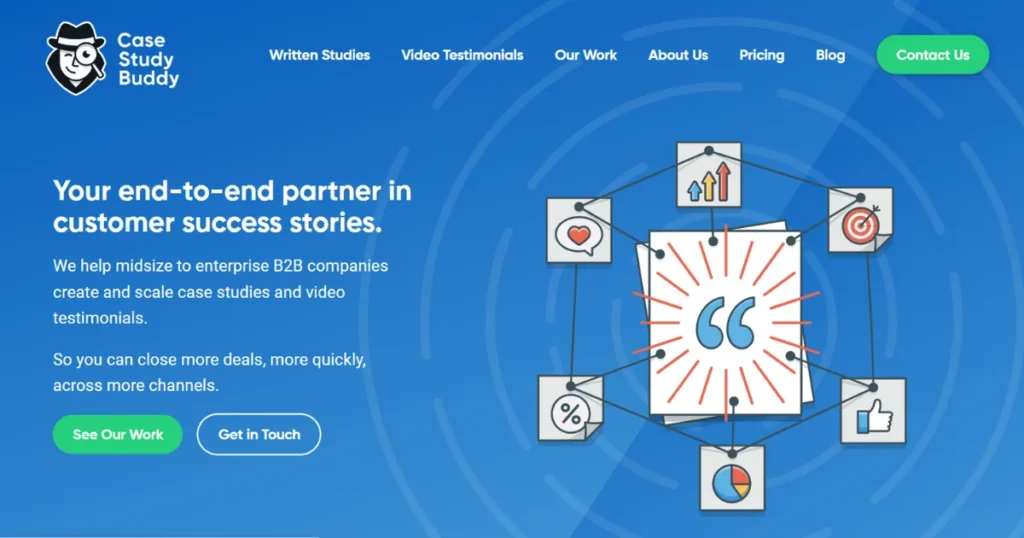 Case Study Buddy is different from your run-of-the-mill team. They're a skilled crew comprising interviewers, writers, videographers, project and account managers, editors, and more. Their mission? To assist B2B companies in capturing, sharing, and expanding their customer success stories and video testimonials. And here's the kicker – they handle everything from start to finish.
Partnering with Case Study Buddy is not just like hiring a freelance writer for a single job. It's similar to bringing an entire department on board, one dedicated to helping you craft compelling stories that sell. They don't just stop at writing – they cover all the bases, ensuring your success stories shine across various platforms, formats, and media.
4. Lead Cookie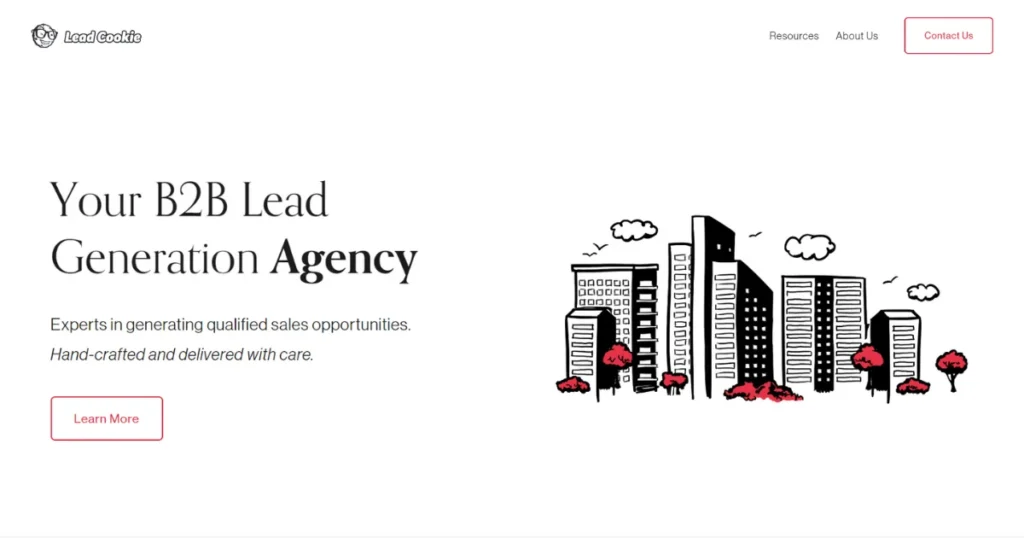 Lead Cookie stands at the forefront of LinkedIn lead generation, serving renowned global brands like Adobe, Capital One, and Google.
As a Saas digital marketing agency, they provide valuable resources to kickstart your journey, including a complimentary guide promising to assist you in generating 4–20 leads every month on LinkedIn. Furthermore, their commitment to your satisfaction shines through with a 30-day money-back guarantee on their services.
Based in Montreal, Canada, Lead Cookie specializes in LinkedIn lead generation, making them an exceptional choice in the digital marketing agency landscape.
5. Testimonial hero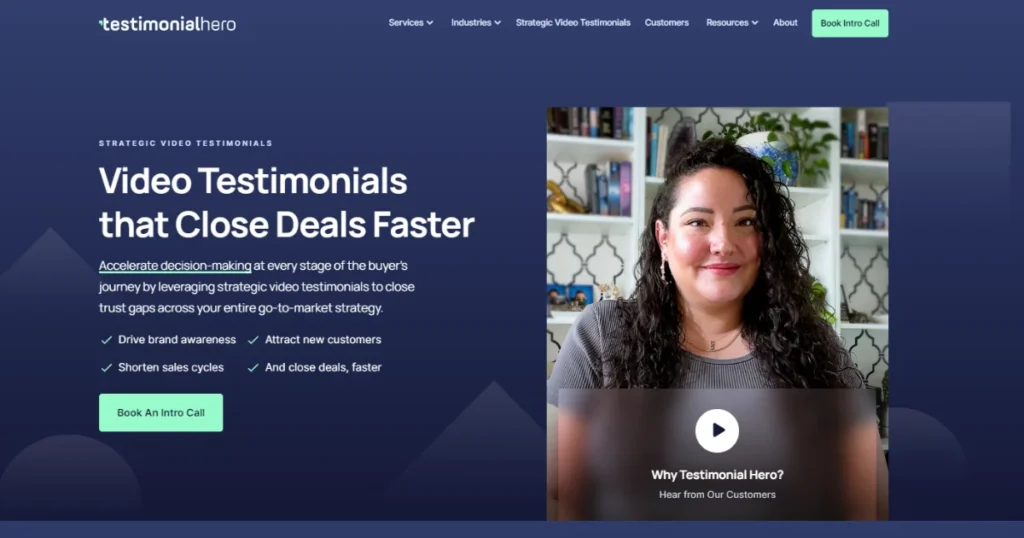 Testimonial Hero offers a unique approach to testimonials. Instead of investing valuable time and resources in developing a brand-new marketing strategy, Testimonial Hero empowers you to harness the growth potential by letting satisfied customers take the lead. They specialize in B2B video testimonials, and their website showcases numerous examples.
In the realm of growth marketing and SaaS digital marketing, Testimonial Hero stands out as an agency that drives results through the impactful medium of video testimonials. They recognize the power of emotion in storytelling, making your customer success stories all the more compelling in driving growth for your business.
6. Channel as a Service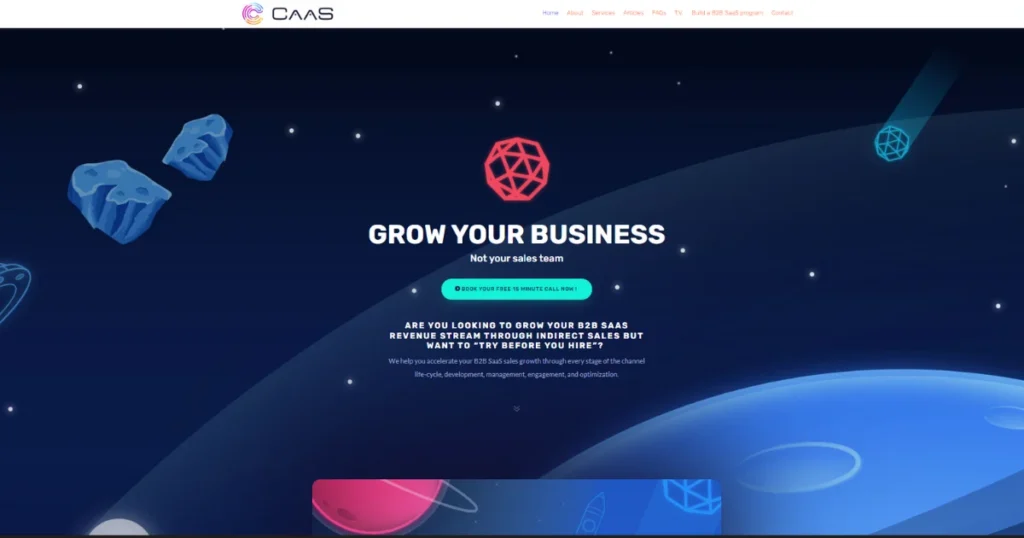 Channel as a Service revs up B2B SaaS sales through a comprehensive suite of services encompassing channel development, management, engagement, and optimization. As a growth marketing agency specializing in SaaS, it offers startups and established companies strategic consulting services designed to boost revenue through an indirect sales force.
This dynamic Saas marketing company is dedicated to enabling businesses to tap into untapped growth potential by effectively leveraging channels. Whether you're a budding startup or a seasoned player, Channel as a Service provides the expertise and resources needed to navigate the complex landscape of B2B SaaS sales.
7. Zeda Labs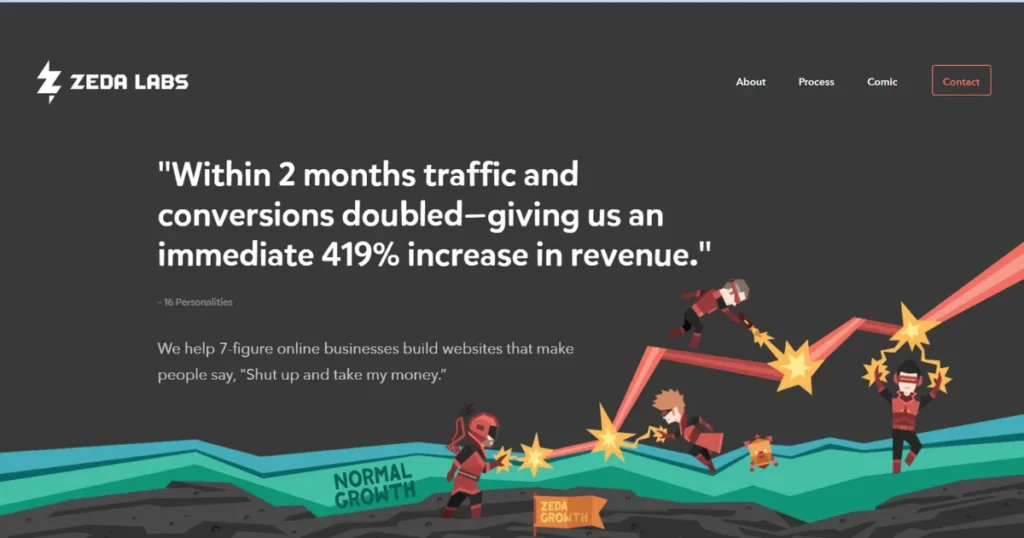 For more than 15 years, Zeda Labs has remained steadfast in its mission to assist entrepreneurs in improving their website's conversion rates and ultimately driving increased revenue.
At the core of Zeda Labs's mission is a clear and resounding commitment to empowering independent entrepreneurs. They understand the unique challenges and aspirations of running an online business. They are driven to provide the tools, strategies, and support necessary to help these individuals reach their full potential.
8. Growth Ramp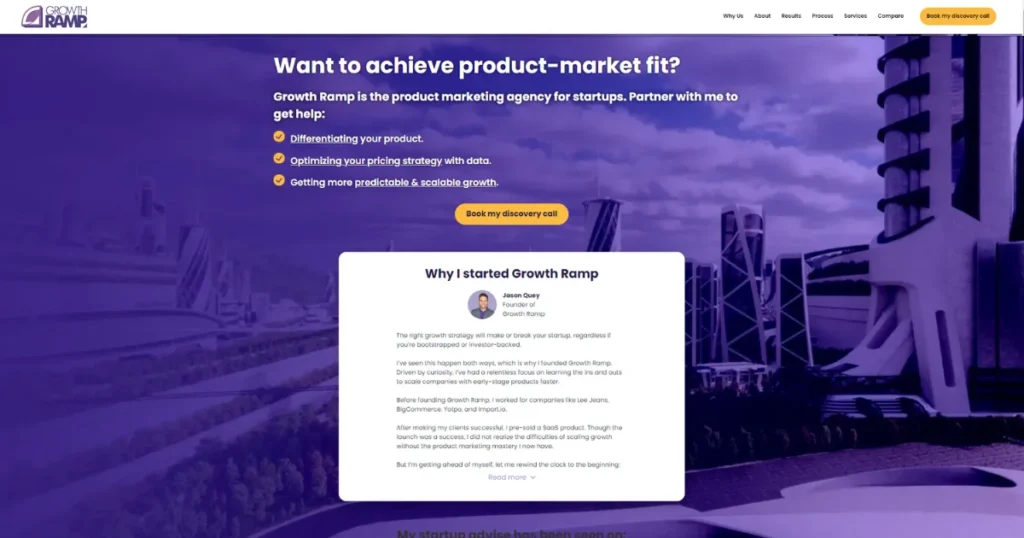 Growth Ramp is a trusted partner in product marketing for startups, excels at the:
Distinguishing your product from competitors by highlighting its distinct value proposition.
Harnessing the power of data-driven insights to optimize your pricing strategies, ensuring they are finely tuned for success.
Delivering consistent and sustainable growth, making your business journey more predictable and scalable.
When you engage with Growth Ramp, here's what you can gain: a clear understanding of where your resource investments will yield the most significant returns, a tailored list of 30 to 60 actionable steps designed to supercharge your sales velocity, and the ability to transform casual readers into enthusiastic and devoted supporters.
9. Outbound Edge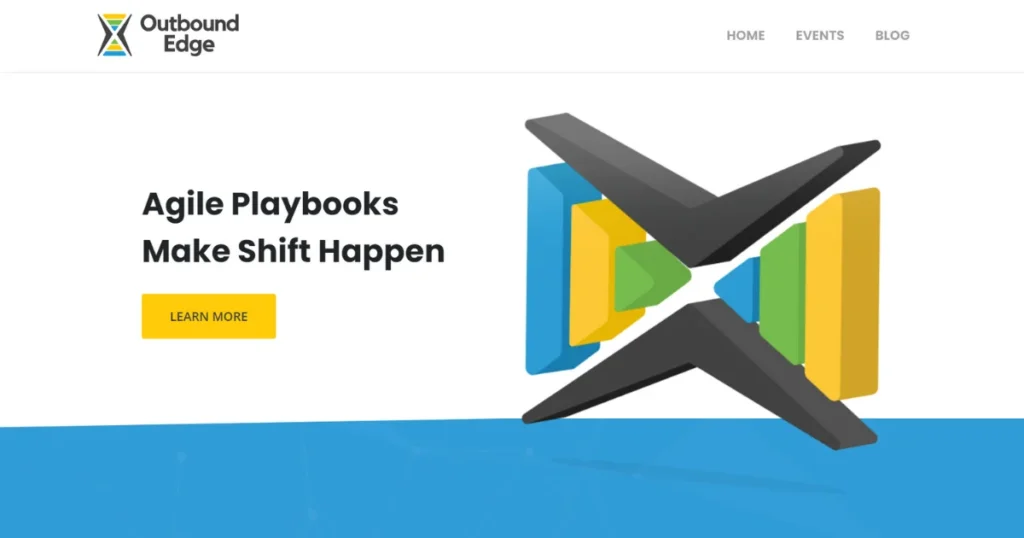 Outbound Edge is your key to refining and expanding your sales pipeline, turning it into a high-performing sales flywheel. Their expertise is evaluating opportunities and reducing risk factors, converting account activity into revenue-generating actions.
Their services include comprehensive pipeline reviews, in-depth deal assessments, and precise deal scoring. Outbound Edge recognizes pipeline management's vital role in accurately forecasting and realizing new revenue opportunities.
10. Powered by Search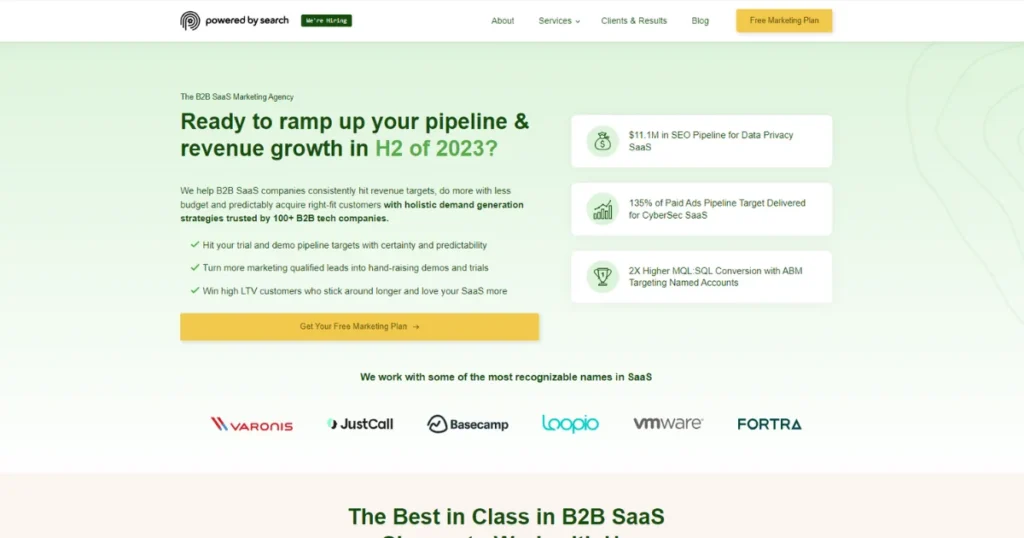 Powered by Search empowers B2B SaaS companies to achieve revenue goals consistently, maximize budget efficiency, and reliably acquire ideal customers. Over 100 B2B tech companies trust it, and holistic demand generation strategies are the key.
You can count on Powered by Search to confidently reach your trial and demo pipeline objectives, ensuring certainty and predictability in your outcomes. They specialize in converting more marketing-qualified leads into enthusiastic participants in demos and trials. Plus, they excel at attracting high Lifetime Value (LTV) customers who stay longer and develop a deep affection for your SaaS offering.
11. SimpleTiger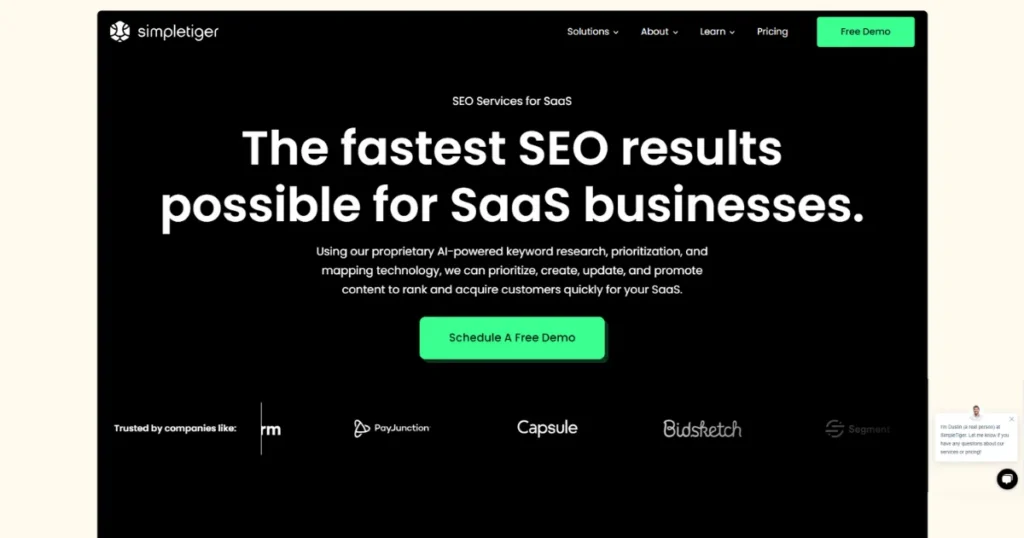 SimpleTiger makes SEO and Content Marketing a breeze for SaaS and software companies, whether you're a small startup or a big enterprise. They help you bring more visitors to your website and turn them into loyal customers by using smart strategies for your online content. What sets them apart is their commitment to quality.
Their main services include SEO (making sure your website shows up in Google searches), CRO (helping you convert visitors into customers), and PPC (getting you more clicks through paid ads).
They mainly work with B2B and SaaS companies and have impressive case studies with companies like JotForm, Segment, Bidsketch, and ContractWorks.
12. The Shelf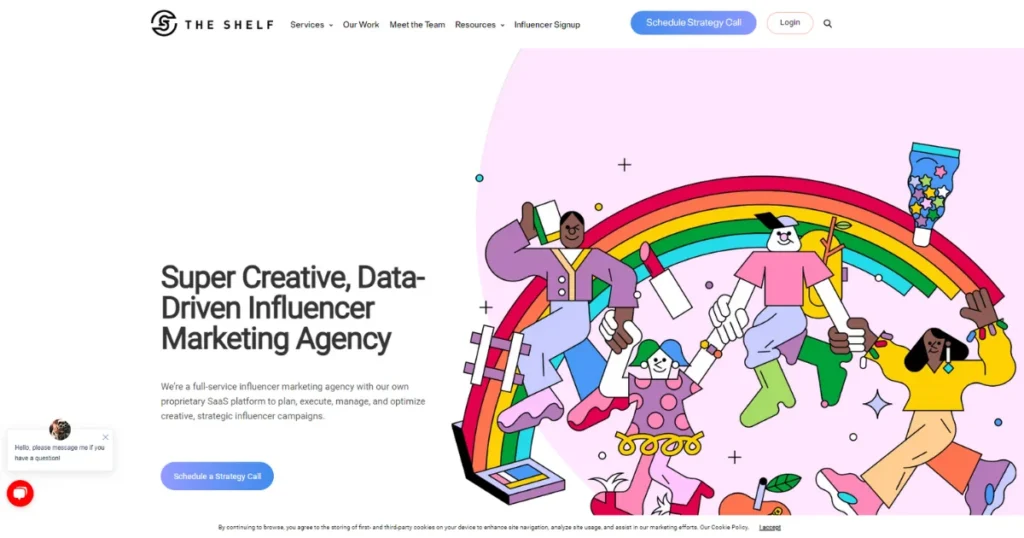 The Shelf is a comprehensive agency that specializes in influencer marketing. They are dedicated to fostering meaningful connections, crafting immersive experiences, and generating compelling content for their clients. Their expertise comes from a global network of skilled storytellers eager to connect with professionals in their respective fields.
Being experts in mobile app marketing, The Shelf understands what it takes to drive app downloads. They leverage their proprietary SaaS platform and a rich toolkit that spans from devising content marketing strategies to creative production and even includes diligent analytics monitoring.
13. Huemor [web design]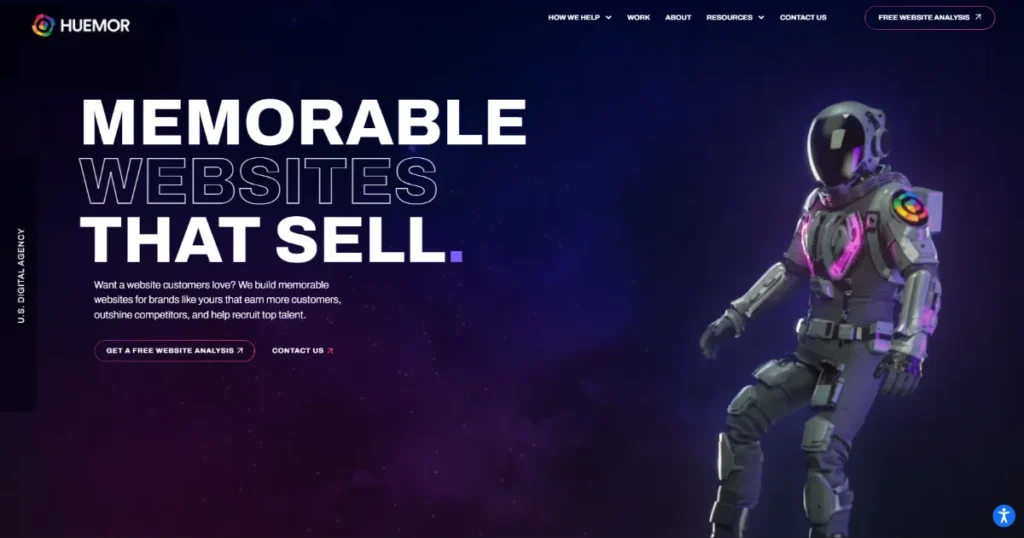 For your SaaS website to be effective, it should be captivating, contemporary, and user-friendly to attract customers. Huemor specializes in assisting clients in crafting unforgettable online journeys through their distinct web design methodology aimed at surpassing competitors. Their straightforward, open, and customer-focused methods appeal to clients seeking their services.
14. Directive Consulting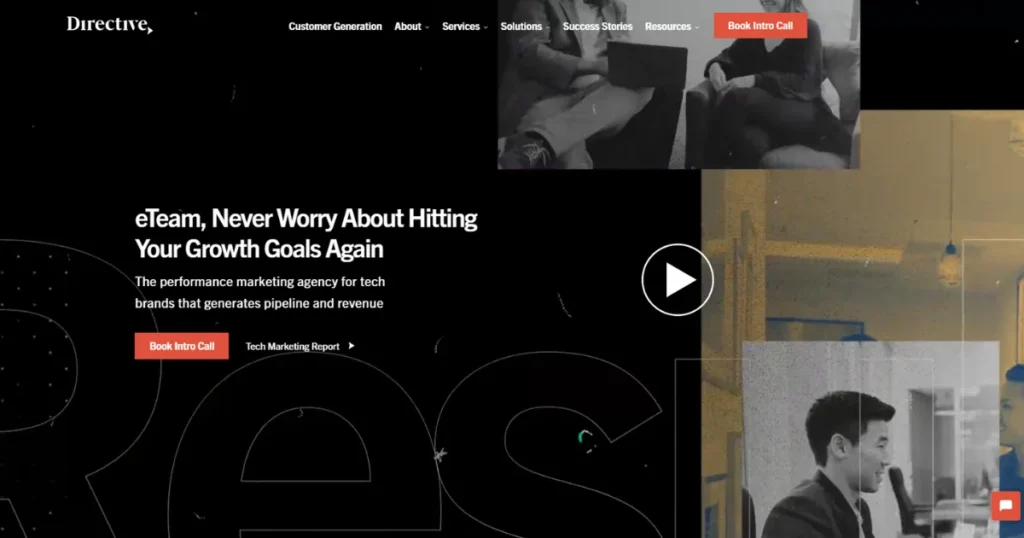 Directive Consulting is a content marketing agency helping tech brands perform better. They're all about making sure you get more customers and money. They use clever marketing plans to make your business grow a lot. They can help you get more people to visit your website, find the right customers, and grow your business over time. And they've got some smart strategies, especially in the world of SaaS, that can make more people discover your website and like what you offer.
15. Disruptive Advertising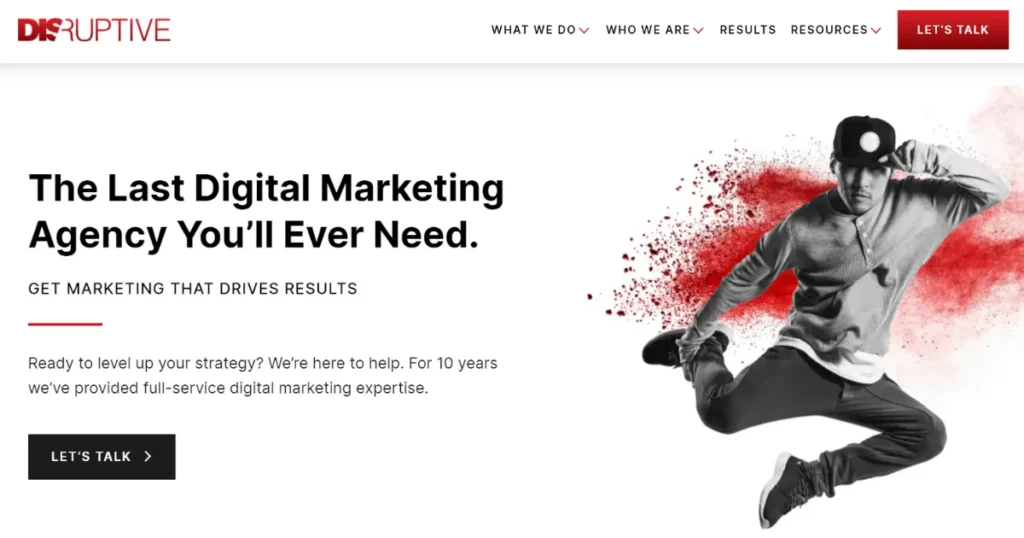 Disruptive Advertising is a company that offers many digital marketing services to a business that teaches people about selling over the phone and online. They help with things like making content, managing social media, doing research, handling online ads, and planning digital strategies.
The initial advertising efforts by Disruptive Advertising resulted in a 40% boost in leads for the client. This increase brought valuable prospects for the client's sales process without negatively affecting their conversion rates. The team is highly responsive in their communication, and their all-encompassing digital marketing approach is outstanding.
People like working with Disruptive Advertising because they communicate well and have a great way of looking at all the different parts of digital marketing to ensure everything works together nicely.
16. Metric Theory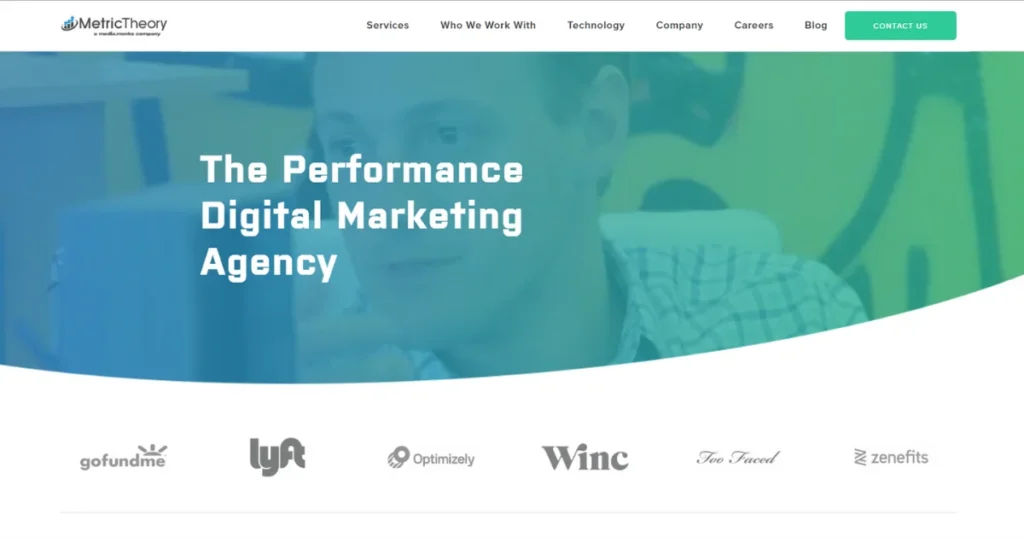 Suppose you need a digital marketing agency that's good at what they do and has handled over $275 million in client advertising spending. In that case, Metric Theory is the top choice for B2B SaaS marketing. They've worked with over 500 well-known clients like GoFundMe, Lyft, and Too Faced so you can trust them with your advertising budget.
One of their clients, Team Snap, saw incredible results when Metric Theory took charge of their advertising on platforms like YouTube and AdWords. They helped Team Snap get 300% more leads for their app, which is for sports teams. This meant more new customers and more people using their app quickly.
17. SmartBug Media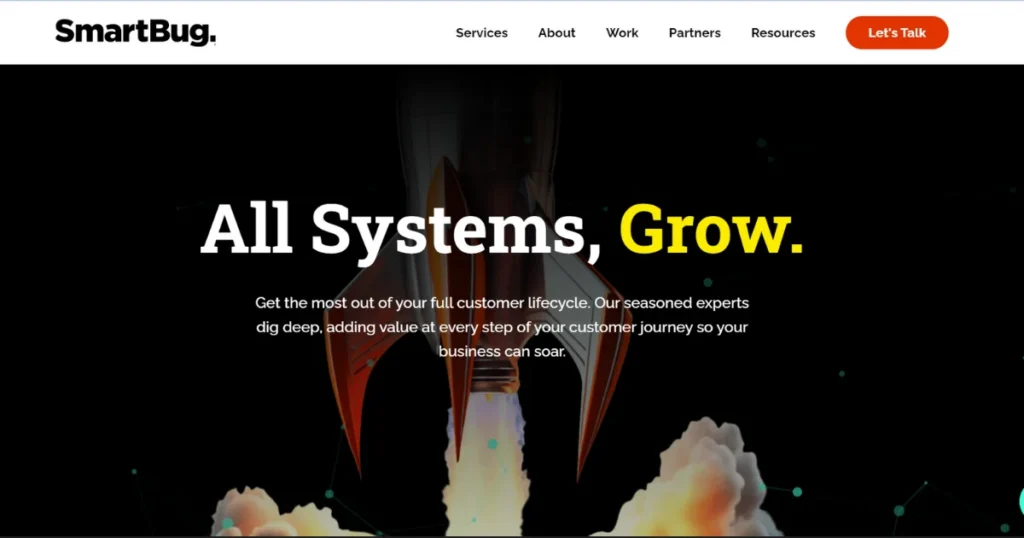 SmartBug Media is a marketing agency that helps its clients get more good-quality leads, make people like their brand more, and make more money. They do this by using smart strategies like helping with sales, making interesting content, building websites, marketing technology, and getting the word out in the media. They've worked with companies like HubSpot, CallRail, and Talent.com.
For example, one of their clients, Spotlight, had trouble getting people to try their technical software. SmartBug set up automated systems to make it easier for people to try the software, and it worked well. They got 39% more people to become interested customers, and that made their revenue go up by a lot, about 159.25%!
18. Bay Leaf Digital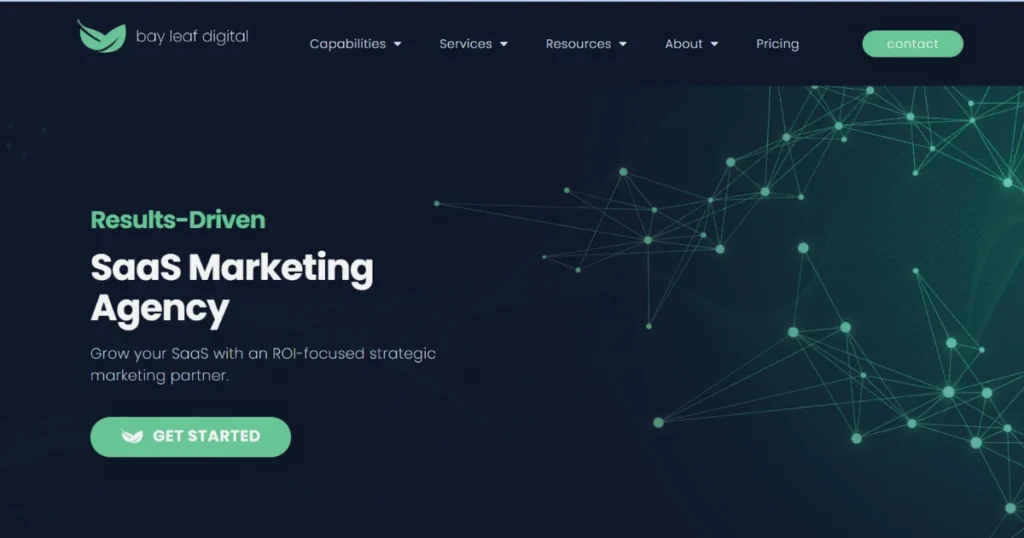 Bay Leaf Digital sees your SaaS analytics as a treasure trove of valuable information. They use these insights to assist clients in boosting their monthly recurring revenue (MRR). With over three decades of experience, they've partnered with major brands like Angie's List, Travelocity, and Citigroup.
In one successful case, they helped an inventory management software company connect and automate their email marketing and CRM systems. This increased qualified leads on their website and made it easier for their Sales and Marketing teams to manage their time efficiently.
19. Wallaroo Media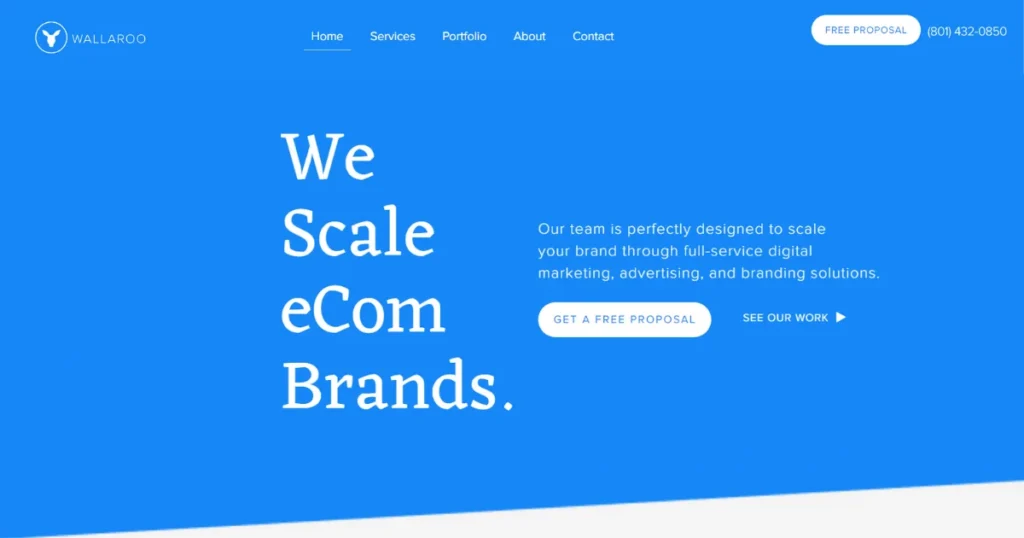 Wallaroo Media initially began as an SEO and content marketing agency but swiftly transformed into a prominent social media advertising agency. Their expertise lies in assisting B2B SaaS companies in attracting precisely the right audience for their niche. They excel at designing paid ads tailored to companies of all sizes, leveraging their extensive knowledge to craft exceptionally effective advertising campaigns.
One of their success stories is Acorns, an app that automatically invests your spare change. Wallaroo Media used Facebook and Twitter to help Acorns connect with its ideal audience, leading to the app being named Mashable's #1 App of the Year in 2014.
20. Refine Labs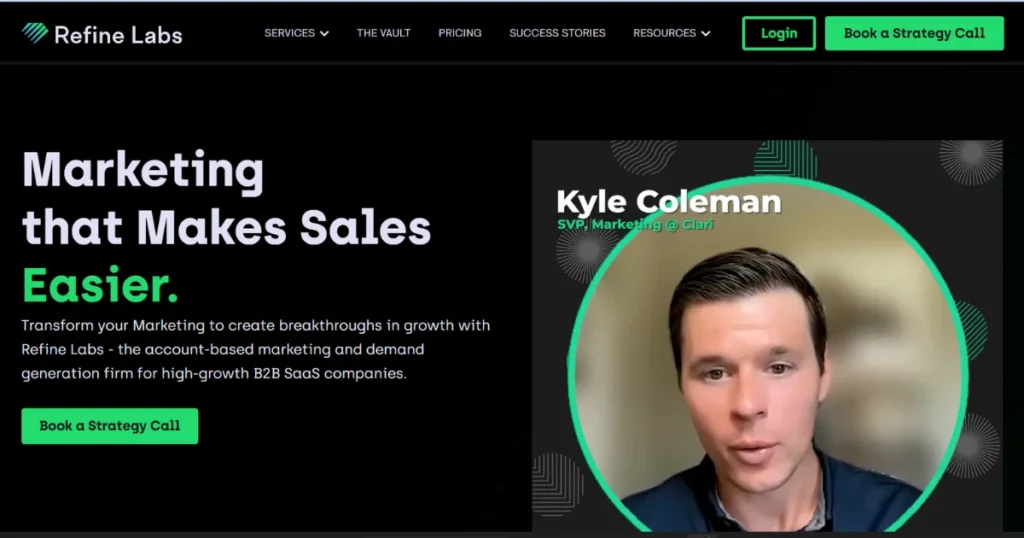 Refine Labs is good at making marketing plans that work. They use real customer information to do it. They've got a bunch of cool examples on their website that show how they've done this for other clients. It proves they understand the people their clients want to sell to.
If you want to try something different and creative to boost your sales, check out what Refine Labs did for Hubilo, Pathwire, and Harness. These companies were super happy with the results and saw big growth with Refine Labs' help.
21. Lean Labs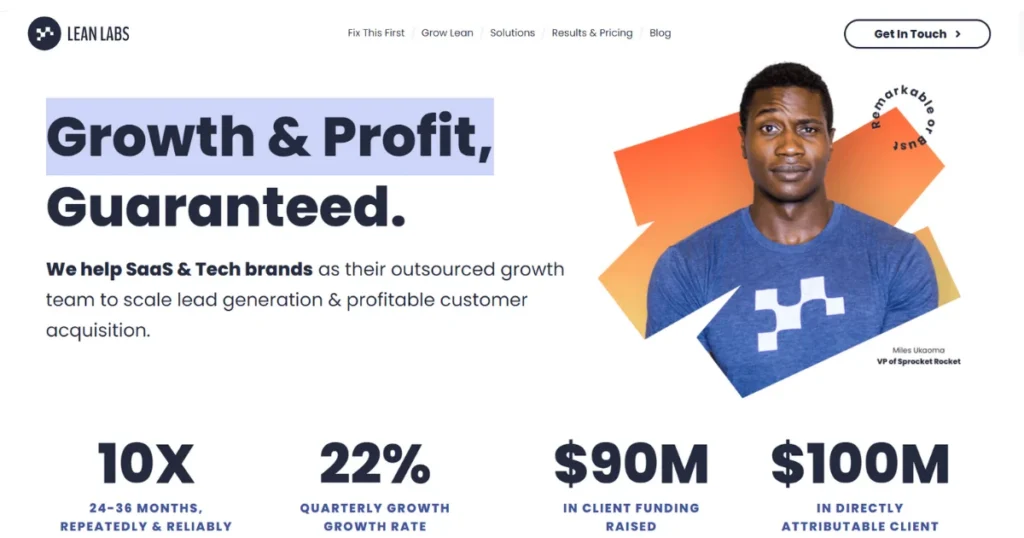 Lean Labs serves as the outsourced growth team for SaaS and Tech brands, aiding them in expanding lead generation and profitable customer acquisition. They craft your Go-To-Market Strategy by applying their tried-and-true growth formula to set you apart from the competition. Their lean, growth marketing methods are designed to supercharge lead generation, aiming for a remarkable 10X increase.
22. Heinz Marketing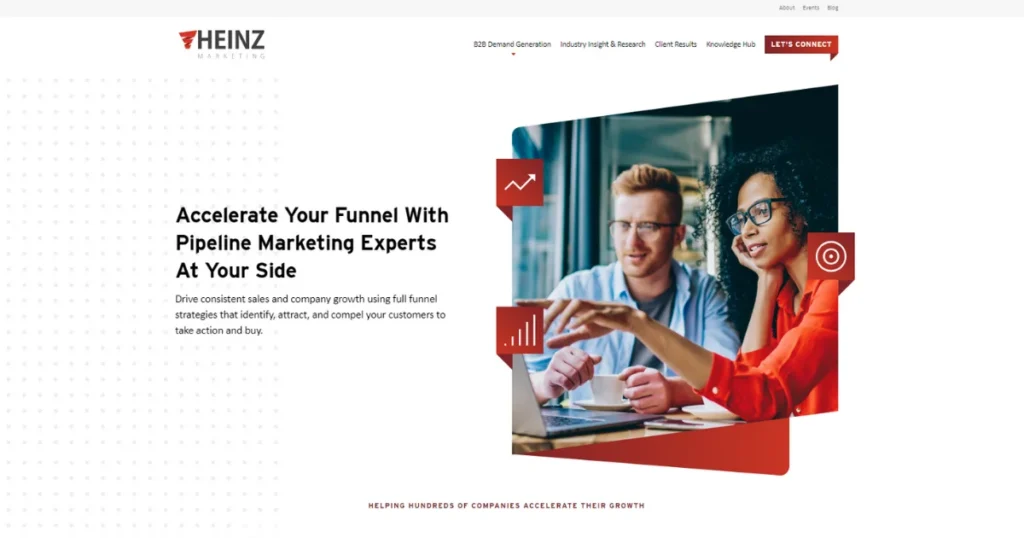 In B2B sales and marketing, Heinz Marketing delivers a fresh perspective. Their Predictable Pipeline approach is about helping clients build engaging customer journeys, boost revenue, and establish a reliable, profitable pipeline for sustainable growth. They take on roles as strategic architects, data-driven marketers, and inventive issue solvers to make it happen.
23. Single Grain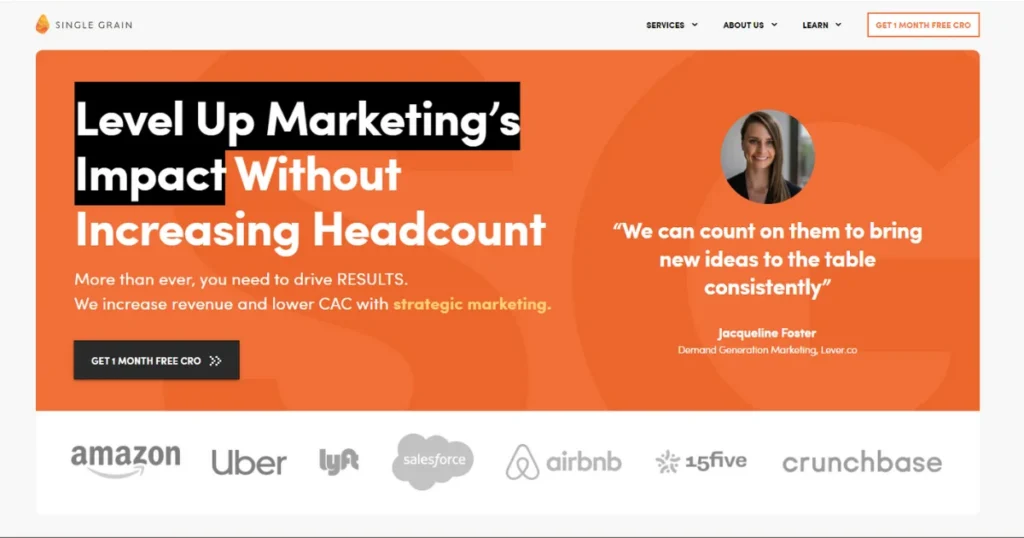 It is a digital marketing agency that provides results with energy and enthusiasm. They focus on helping your business achieve the results you're looking for. Their team of experienced marketers knows how to guide brands in making smart choices about where and how to invest their money, whether in social advertising or targeted search marketing.
They've been around since 2005 and have a 51 to 200-employee team. Some of the things they're really good at include SEO (making sure your website shows up on Google), PPC (getting you more clicks through paid ads), CRO (turning visitors into customers), and SEM (search engine marketing).
They mostly work with SaaS and B2B companies and have success stories with companies like Nextiva, Twenty20, and Intuit.
24. Deviate Labs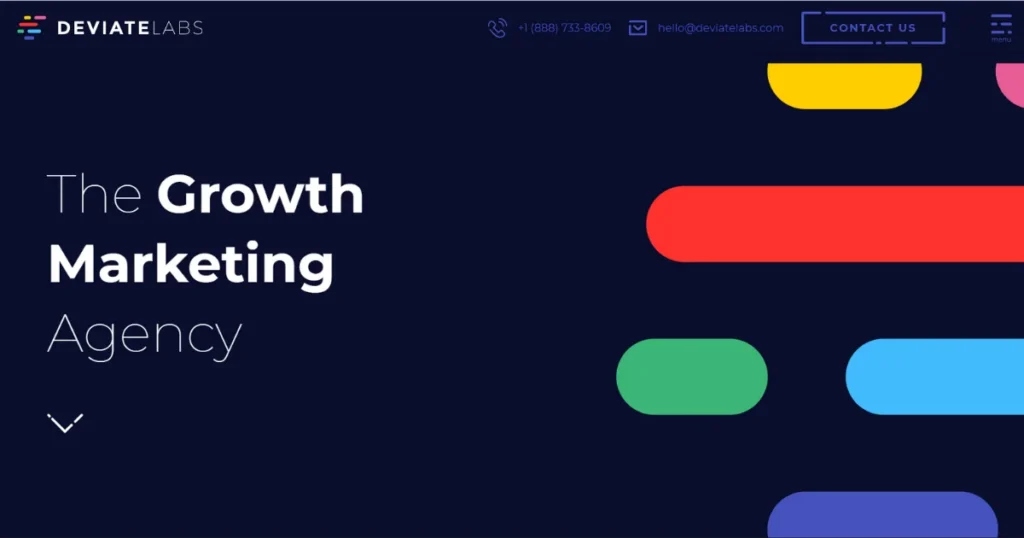 They've teamed up to assist companies across a wide range of industries, serving both small startups and massive billion-dollar giants.
Their portfolio includes collaborations with prominent enterprises like Dollar Shave Club, as well as businesses featured on the television show Shark Tank. Furthermore, they've provided their expertise to a significant Korean corporation with billions in assets, among many others.
25. Digital Current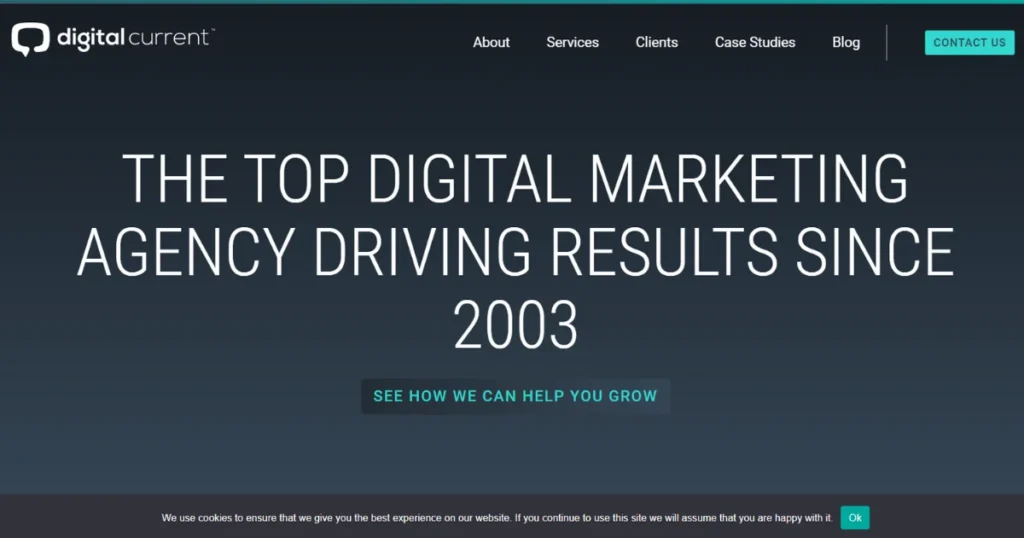 Digital Current is a top-notch digital marketing agency that's been around for 17 years. They're good at helping businesses reach their goals online. One of the things they excel at is SEO, which means making sure your website shows up high on Google. They're experts in all aspects of SEO, like the technical stuff, what's on your web pages, and what happens outside your website. It helps their clients compete better and get higher rankings on Google.
They're based in Mesa, Arizona, and have a team of 11 to 50 experts. They offer plenty of services, including SEO, CRO (turning website visitors into customers), SEM (search engine marketing), PPC (getting more clicks through paid ads), and Email Marketing. They mainly work with B2B and SaaS companies.
26. From The Future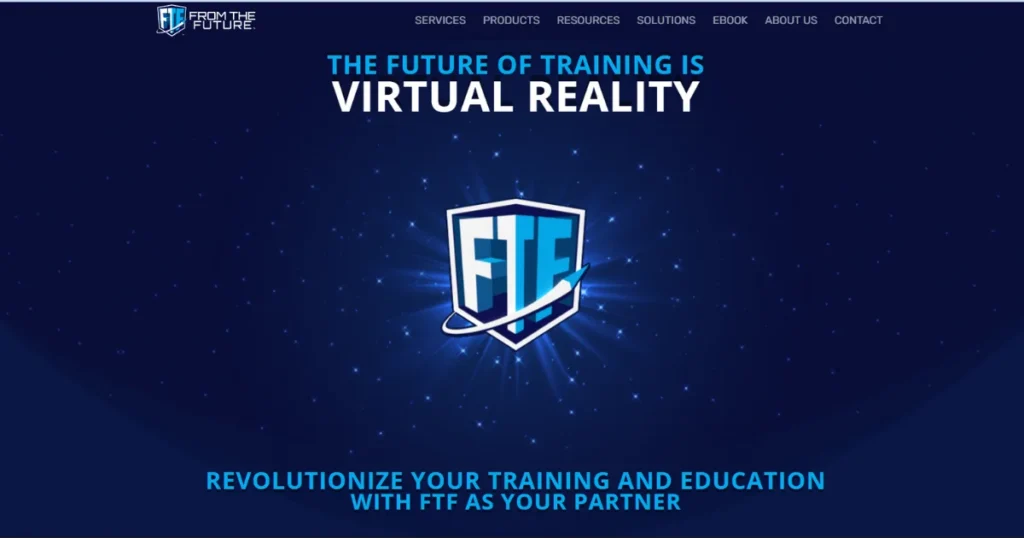 FTF is a small but super smart marketing consulting company. They're like a futuristic team to rescue clients from regular agencies' dull and outdated strategies. They do this by using proven techniques for making websites show up on Google (that's SEO) and running smart online ads (SEM).
What's important is that they create their special tools that give their clients an advantage in the competitive business world. They're based in Philadelphia, Pennsylvania, and have a team of 11 to 50 experts. They mostly work with SaaS (software) and DTC (direct-to-consumer) companies, helping them succeed online.
27. Customer-Led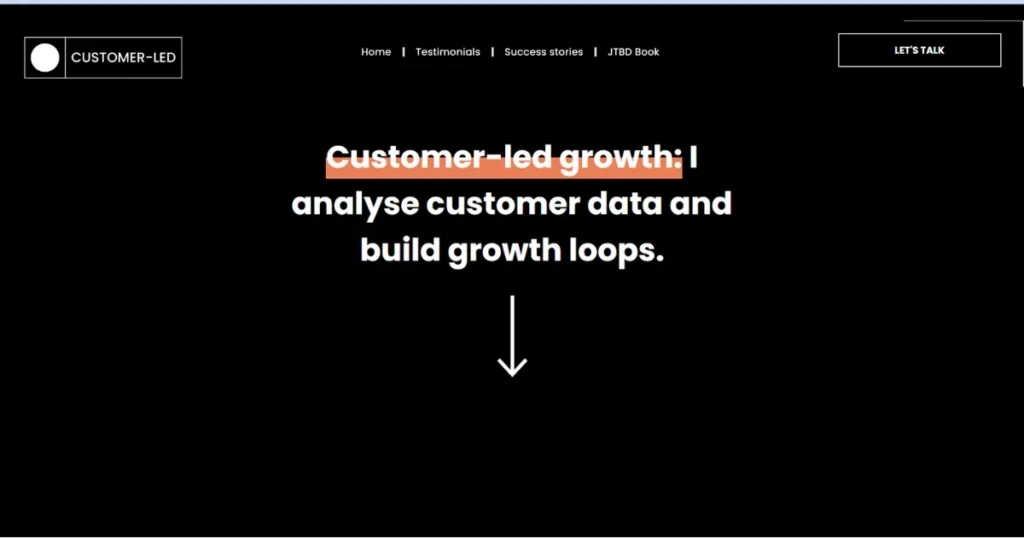 Customer-Led has a keen eye for perfection, and they don't settle for anything less than spot-on. They specialize in advanced customer research techniques, particularly the "jobs-to-be-done" approach, to provide B2B SaaS companies with precise solutions to tackle their most challenging and risky growth problems.
They're known for their straightforward honesty, reminding you that even if you believe you understand your customers perfectly, the reality may differ. But here's the good news: they have the expertise to guide you in the right direction.
While they operate in the UK and France, details like their founding year and team size are unavailable. Their primary focus is on offering services related to strategy and positioning, primarily catering to the B2B SaaS sector.
How To Pick The Best B2B SaaS Marketing Agency?
Here are some crucial factors to consider when selecting the right B2B SaaS marketing agency. Here's a breakdown of what to look for in simple terms:
1. Do they have a proven process for marketing SaaS companies like yours?
You want to ensure the agency you pick knows the ins and outs of marketing SaaS. Check if they have a clear and tested method for promoting software like yours. Ask for examples or case studies of their past work with similar SaaS companies to see if their strategies are effective.
2. Do they specialize in B2B SaaS?
The agency must specialize in B2B SaaS if that's what you offer. Different types of businesses have different marketing needs. If the agency has experience specifically with B2B SaaS, they'll understand your target audience and industry better, which can lead to more successful campaigns.
3. How healthy and happy is their team, and how is it structured?
A happy and healthy team will likely provide you with top-notch service. Ask about their team's size and structure. Are they a well-organized group with the right mix of skills? Do they have a good track record of retaining talent? A solid team can make a big difference in the quality of service you receive.
Thus, when choosing a B2B SaaS marketing agency, focus on their experience, specialization in your industry, and the overall well-being of their team. These factors can help you make an informed decision and set you on the path to successful SaaS marketing.
Make the Right Choice for Your SaaS Marketing Strategy
In the world of B2B SaaS, the choice of a marketing agency can be the backbone of your success. As we've explored, selecting the best B2B SaaS marketing agency involves considering their experience, specialization, and team health.
A proven process tailored to marketing SaaS companies is vital, as it demonstrates their ability to navigate the unique challenges of your industry. Specialization in B2B SaaS ensures they grasp your target audience and market dynamics. Furthermore, a happy, well-structured team can substantially improve your service quality.
Your SaaS venture deserves a marketing agency that understands your needs, speaks your language, and shares your passion for growth. By carefully assessing these factors, you can set your business on the path to success, confident that you've made an informed choice for your SaaS marketing strategy. So, take the time to choose wisely and watch your SaaS business thrive in the digital landscape.
FAQs
1. How much does it cost to hire a SaaS Marketing Agencies?
The hiring cost of a SaaS marketing agency varies based on the services needed, the agency's reputation, and the project scope.
2. How do you measure the ROI of SaaS marketing agencies?
Measuring ROI entails monitoring critical performance metrics, including Customer Lifetime Value (CLTV), Customer Acquisition Cost (CAC), and Conversion Rates.
3. When should you hire a SaaS Marketing Firm?
Consider hiring a SaaS marketing firm when you're ready to scale your customer base, optimize marketing efforts, or need specialized expertise in the SaaS industry to drive growth.