13 Ultimate D2C Marketing Agencies to Grow Your Business
India's Direct-to-Consumer (D2C) market will expand at a CAGR of 40% between FY22 and FY27. Imagine the effect on your business when every interaction is a connection rather than just a sale, resulting in unbeatable growth!
However, you would need the help of D2C marketing agencies to achieve that. But which one of them will give you the best results?
We're here to help you.
Join us as we explore D2C marketing agencies that have helped organizations achieve a stunning increase in market reach. Are you ready for this informative journey? 
Why You Should Opt for D2C Marketing?
Here's why you should opt for D2C marketing,
1. Increase Your Market Reach
First, direct-to-consumer marketing enables companies to expand their market reach significantly. By eliminating mediators, marketers may connect with audiences worldwide directly, overcoming geographical restrictions and reaching a global audience.
This close relationship promotes a deep understanding of consumer needs, allowing for personalized marketing methods.
2. Interact with Your Audience Directly
Second, direct-to-consumer marketing enables firms to communicate with consumers, promoting loyalty and trust.
Real-time feedback is made possible via direct interactions, ensuring businesses remain aware of changing consumer preferences and market trends.
These discussions are essential in helping build products, improve customer experiences, and create a community around the brand.
3. Get Better Control Over Your Business
D2C marketing also allows companies to control their business operations. Direct access to client data and feedback enables businesses to react quickly, improve marketing plans, and develop new product offerings.
Organizations stay competitive in the always-shifting market environment by quickly responding to market needs and remaining innovative.
Adopting D2C marketing is more than just a strategy; it's a revolutionary method that places companies at the core of sustainable growth and consumer-centric innovation.
Top Digital D2C Marketing Agencies
The function of digital marketing agencies has expanded beyond simple promotional efforts in the fast-paced and highly competitive digital marketplace.
Let's travel through the top 13 digital D2C marketing agencies,
1. DesignScript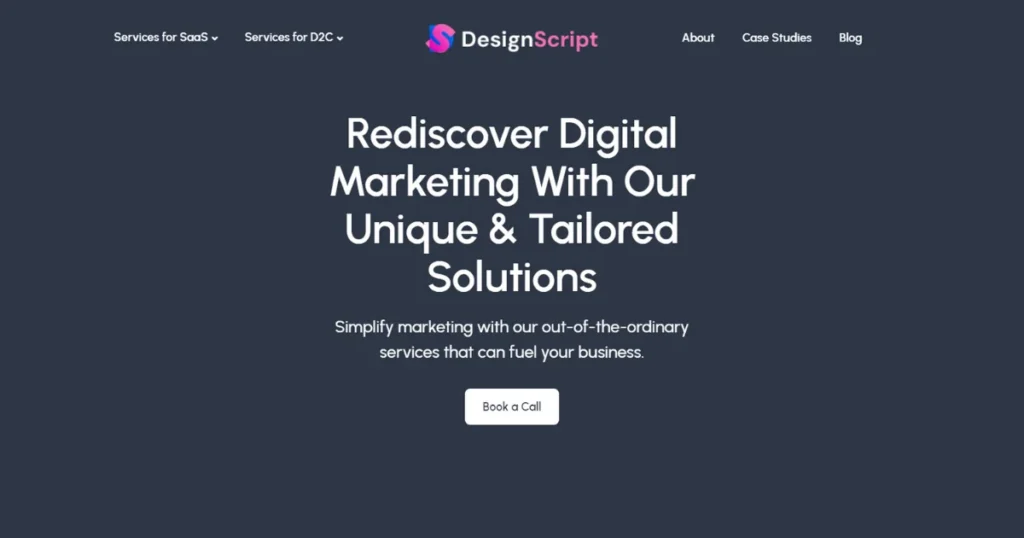 DesignScript is like your best friend in the online world, helping your business shine! The agency is the best solution provider for SEO, PPC, Content Marketing, and CRO (Conversion Rate Optimization) needs of SaaS and D2C Companies spread across the USA, UK, and India.
The SEO services include off-page & on-page SEO, providing value-driven content, optimizing websites, and more. Apart from this, there is complete assistance with running ads, CRO services & RevOps.
DesignScript has a track record of achieving over 15 million website visits, generating over $500k in monthly sales, and satisfying over 20 clients with a team of over 25 in-house experts. We position ourselves as growth partners for SaaS & D2C companies looking to excel in the digital world.
2. AdVenture Media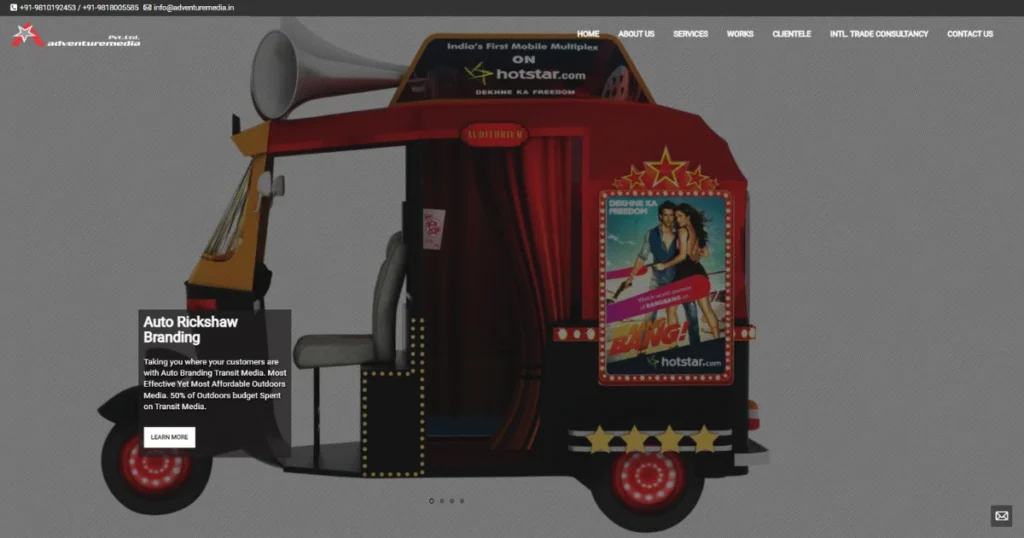 AdVenture Media is like a creative powerhouse in the marketing world. They're not just any agency; they're innovative experts who craft ads that are as unique as your business.
But that's not all – they've got a team of strategic thinkers too. Together, they create plans that make sure the right people, your potential customers, get to see your brand.
Here's what makes them really special: they have strong connections in the industry. These connections help boost your brand's visibility. But what truly sets them apart is their customer-centric approach. Your success is not just a goal; it's their top priority.
They're not here just for quick wins; they want to see you achieve amazing results. Their mission is to help you grow your audience and connect with new customers. They're not just about short-term gains; they're dedicated to making your success a long-term reality.
3. Brasco Design + Marketing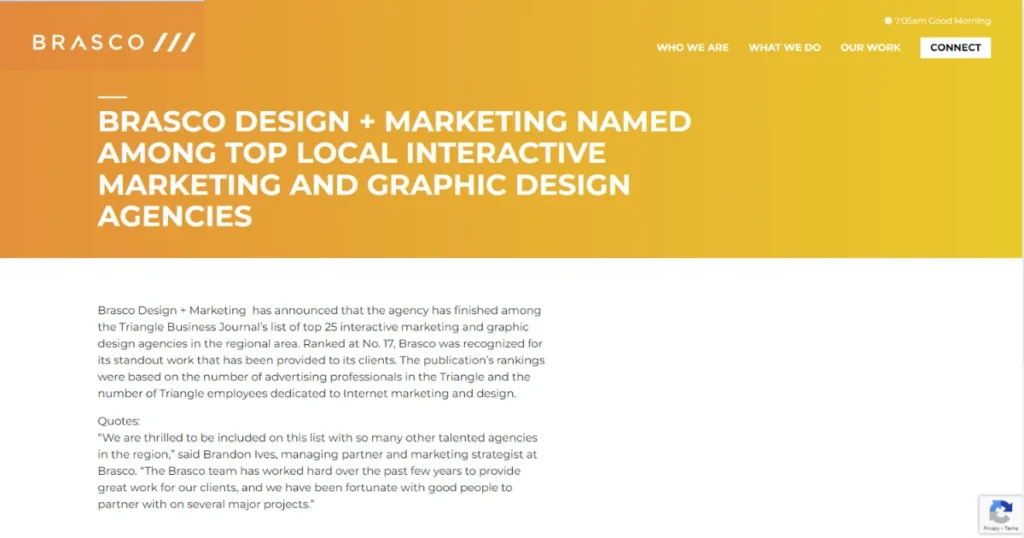 Brasco Design is like a supportive ally for businesses, providing a wide array of marketing services to help them achieve their goals.
Imagine having a team of skilled experts with various talents working together to create personalized plans for you.
These plans are not cookie-cutter; they're tailored to ensure more people discover your company, make purchases, and become devoted fans of your brand.
What sets them apart is their creativity – they come up with unique solutions that focus on your specific needs.
Their ultimate goal is to nurture your business growth. They care about your success and happiness, striving to make your business thrive in every possible way.
4. Common Thread Collective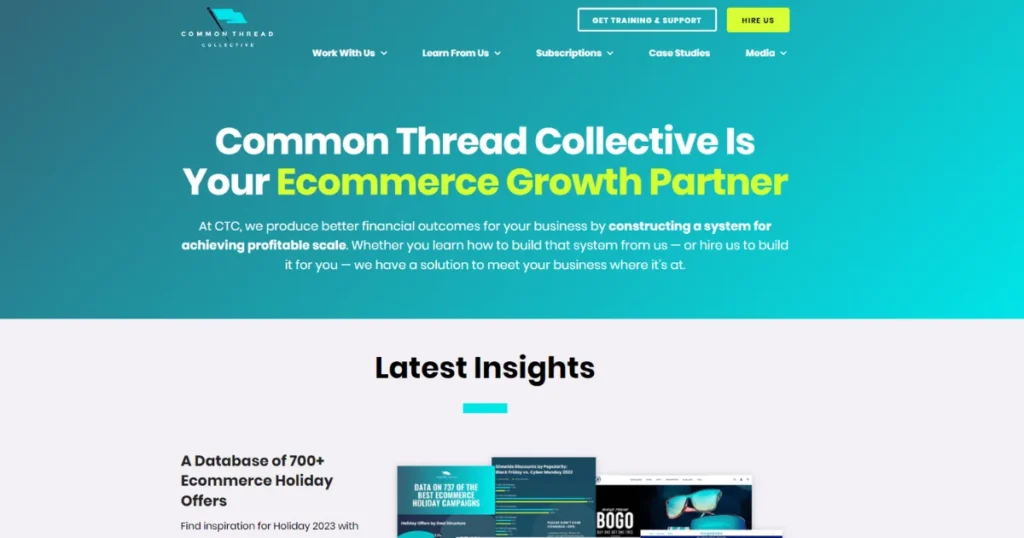 Common Thread Collective is a marketing agency using innovative strategies rooted in data and creativity. The team crafts intelligent plans to sell products or services.
Managing social media accounts, they connect with customers through regular posts. Plus, they track results, ensuring their plans are successful.
By focusing on boosting sales and forming partnerships with influencers, they expand the brand's reach.
The agency simplifies the online shopping experience, making it effortless for people to purchase.
Moreover, they develop strategies to nurture customer loyalty, encouraging repeat business.
5. Direct Agents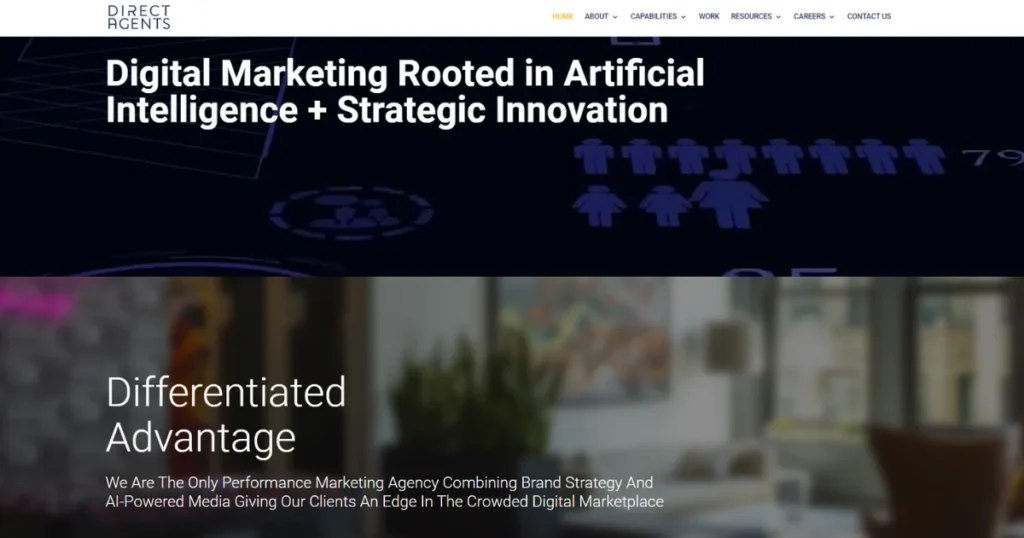 Direct Agents is a marketing agency that helps D2C businesses grow.
Direct Agents help D2C businesses reach customers by making ads for the right people, creating exciting content, and managing social media accounts.
It helps D2C businesses improve their marketing and track their results by learning from data and monitoring how healthy ads and other marketing work.
Also, it helps D2C businesses grow by boosting sales, partnering with celebrities to reach more customers, making it easy for people to buy online, getting customers to come back and buy more, sending emails that people like, and helping customers with questions or problems.
In short, Direct Agents help D2C businesses be successful by creating an experience for customers that is smooth and easy and that leads to more sales and growth.
6. Directive Consulting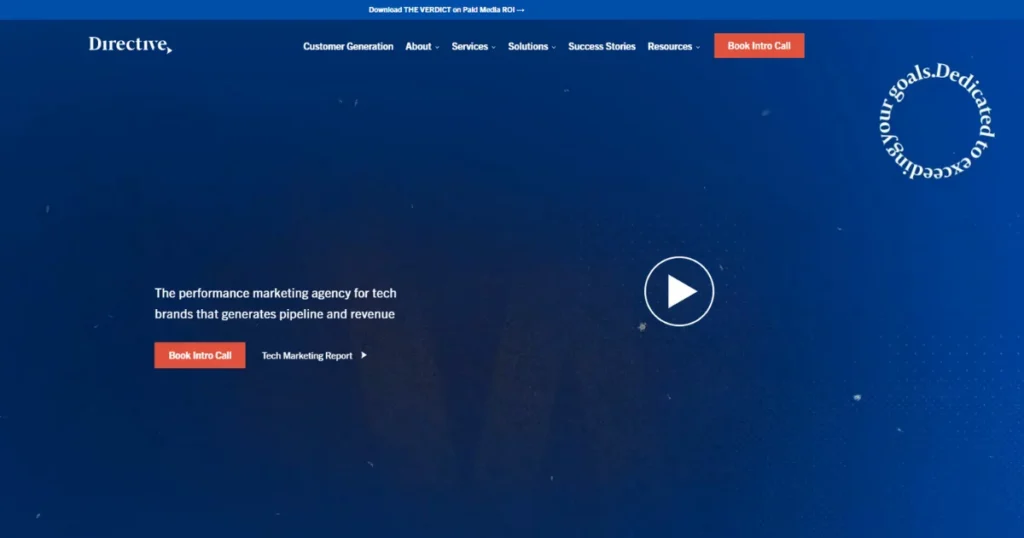 Directive Consulting is like a wizard for online businesses, making sure they get tons of visitors, leads, and sales on their websites!
Here's the magic: they create special plans designed for each business. They have a bag of tricks to improve websites and bring in more visitors. They create captivating content that people actually want to read and use fancy technology to get fantastic results.
But that's not all – they're like detectives, using data to track how their strategies are affecting sales. They make sure everything they do is working like a charm.
And here's the best part: they share their secrets! They give businesses easy-to-follow instructions and real-life examples to boost their SEO. It's like having a magical guidebook that helps businesses attract more customers and make their online dreams come true!
7. Disruptive Advertising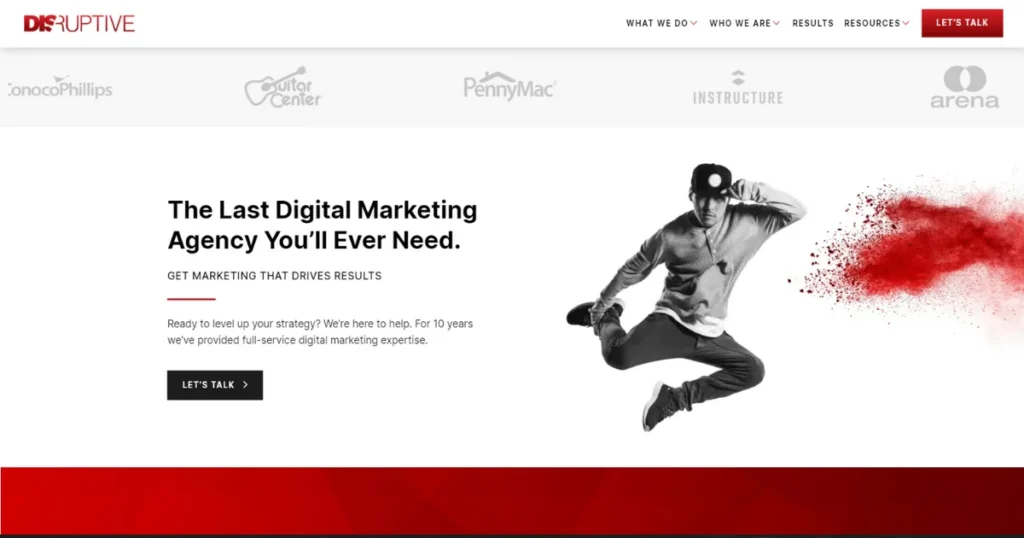 Disruptive Advertising is like a personal marketing coach for businesses that sell to customers online! They create special plans for these businesses, tailored to fit their needs.
Here's how it works: businesses tell them what they want to achieve, and the experts at Disruptive Advertising provide valuable advice and reviews. It's like having a knowledgeable friend giving you tips on how to make your business better.
Together, businesses and the Disruptive Advertising team brainstorm and come up with smart strategies to improve their marketing. They use clever techniques to get the best possible results. It's not the team doing all the work; they collaborate with their clients. They make plans together, figuring out the best ways to make their businesses grow and succeed online!
8. Go Fish Digital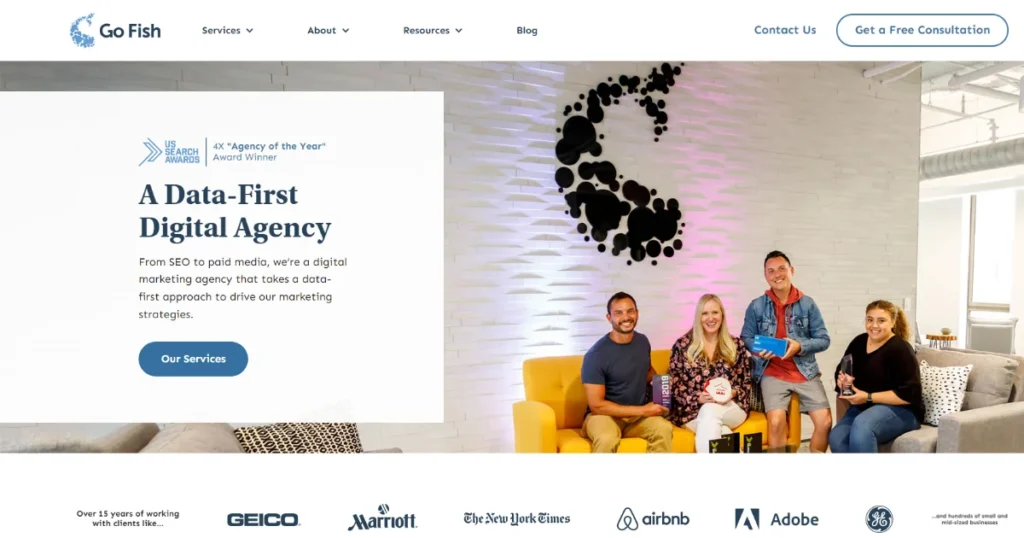 GoFish Advertising is a full-service digital marketing agency that helps businesses of all sizes achieve their goals.
GoFish Advertising offers various digital marketing services, including search engine optimization (SEO), digital PR and link building, content marketing, online reputation management, and website design and development.
The agency also offers paid media advertising, conversion rate optimization, copywriting, social media management, branding and design, and email marketing.
GoFish Advertising can help businesses improve website visibility, reach a wider audience, and drive more sales.
They have a team of experienced professionals who are experts in all areas of digital marketing.
9. Gray Box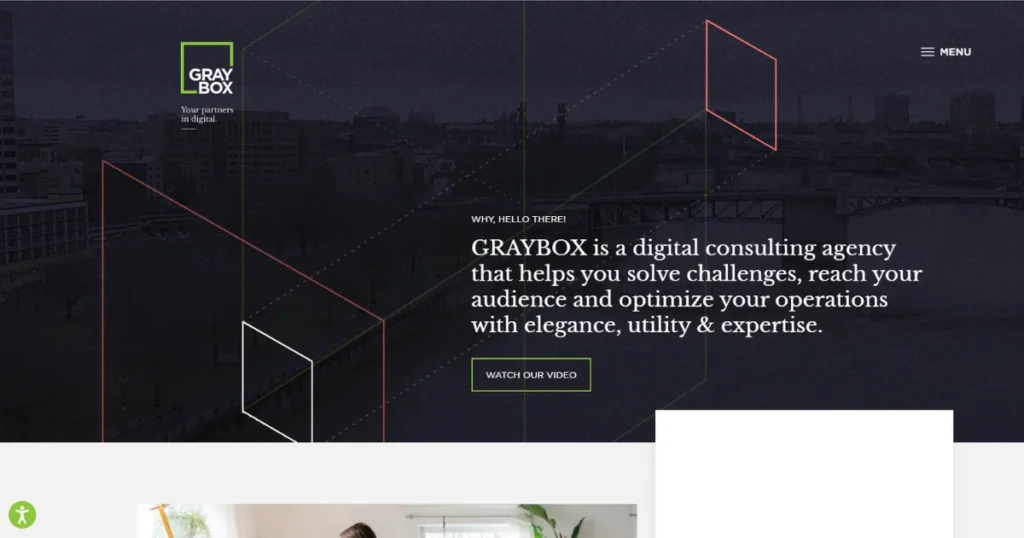 Graybox Advertising helps businesses promote themselves online in many different ways. They use the internet to get the word out about products and services. They focus on three main areas: when you search for something online, when you're on social media, and when you see ads displayed on websites.
They know how to pick the best places to show these ads and use specific words that people are likely to search for. This way, they make sure that the ads reach the right people and don't bother those who are not interested.
Whether a business has a lot of money to spend or just a little, Graybox can create ad campaigns that work within their budget. They figure out which words to use in the ads that give the best results without costing too much.
Graybox doesn't just set up the ads and leave them. They keep an eye on them, making sure they're doing well and not spending too much money. They provide regular reports and have meetings with their clients every month. In these meetings, they talk about how well the ads are doing and look for new opportunities to advertise online.
10. Ignite Visibility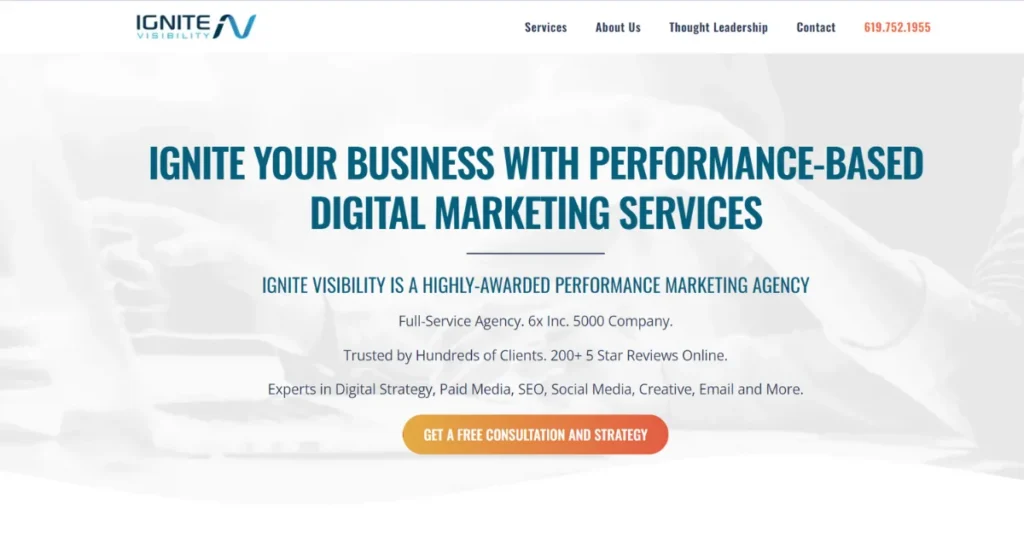 Ignite Visibility is like a helpful online buddy for businesses! They specialize in making sure businesses shine on the internet. They're experts at managing ads on the internet and talking to customers on social media.
Not just that, they're great at crafting emails that really make a connection with customers. They also know how to make websites better so that more people buy things from them. Plus, they work hard to create a positive image for your brand.
But wait, there's more! Ignite Visibility is also fantastic at providing clear and easy-to-understand reports. These reports help businesses make smart decisions. They're like your GPS, guiding you in the right direction.
And here's something really cool: Ignite Visibility is super skilled at selling things on Amazon. They know all the tricks of the trade!
What's best is that they don't have a one-size-fits-all approach. They create special plans just for each business, making sure it suits them perfectly. If you have a chain of businesses, they have unique strategies tailored just for franchises. They're your go-to team for everything digital and online!
11. Murmur Creative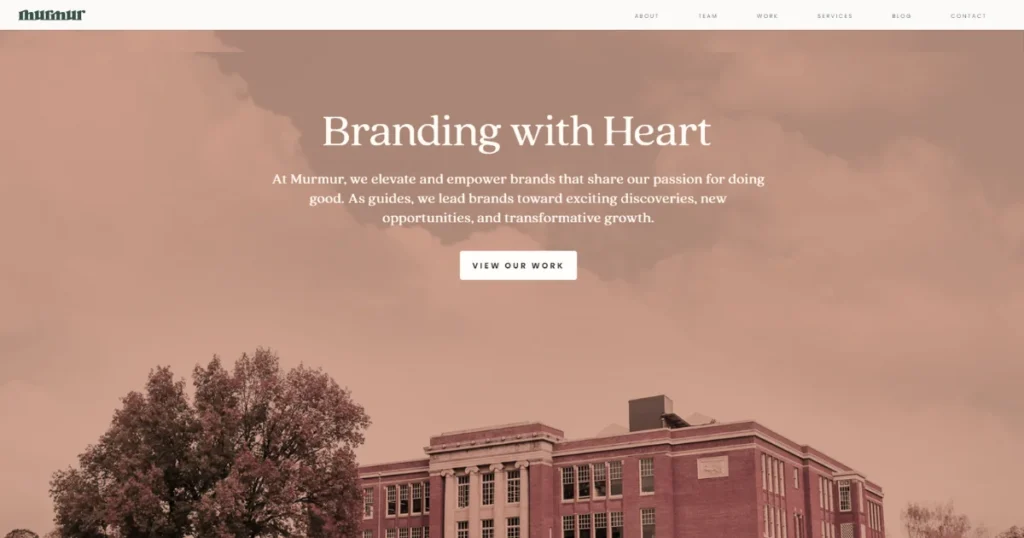 Murmur Creative is a dedicated expert in crafting distinctive brands and tailored websites that resonate with your target audience. They provide various brand services, including strategic planning, naming, logo design, print and packaging design, photography, and brand guidelines.
Recognizing the vital role of websites in business, Murmur Creative designs websites that align with the brand identity, ensuring a unified online presence.
Their offerings encompass a variety of services such as web design, e-commerce solutions, website messaging, design enhancements, accessibility improvements, SEO optimization, and reliable web hosting, guaranteeing a comprehensive and effective digital presence for businesses.
12. Single Grain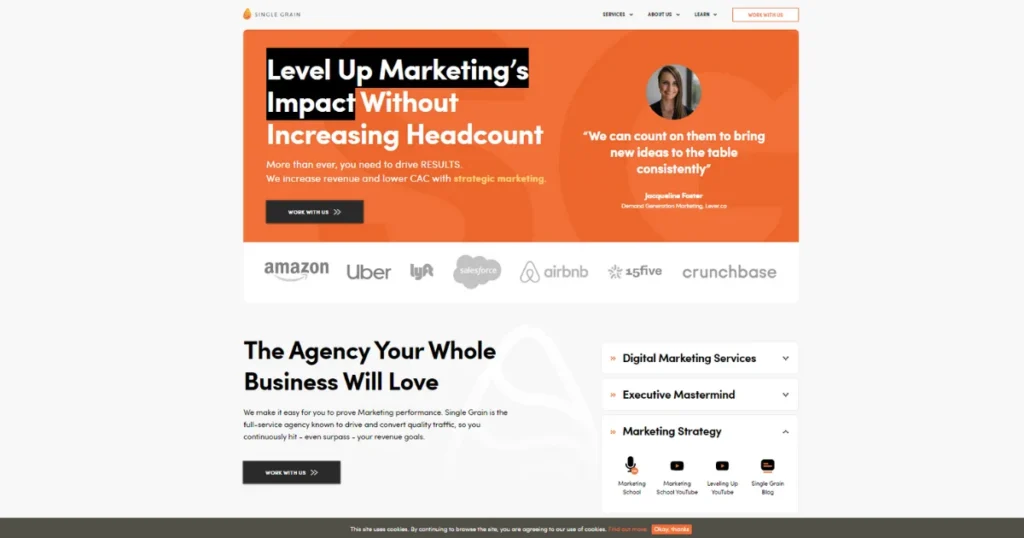 Single Grain offers expert marketing services, focusing on e-commerce, SEO, PPC, and lead generation. Their experienced team devises solid digital marketing strategies, drawing from their extensive expertise in SEO and content marketing.
As certified Google Premier Partners, they specialize in crafting custom PPC campaigns on platforms like Google and Facebook, tailored to meet specific business objectives. Utilizing in-depth customer research, they optimize conversion rates, ultimately enhancing the user experience.
Additionally, Single Grain provides valuable support to businesses in the SaaS industry, helping them identify and convert qualified leads effectively.
13. Voy Media
Voy Media is your go-to solution for comprehensive digital marketing assistance. From crafting engaging visuals and content to devising effective strategies, they offer complete support for online marketing needs. Their client spans diverse businesses, ensuring success for both large enterprises and small ventures, with a focus on boosting monthly sales through their marketing expertise.
Voy Media provides all-inclusive services, handling everything from data analysis to creative design, delivering a holistic digital marketing package. Specializing in Facebook and Instagram ads, they ensure businesses reach their intended audience effectively.
Clients receive personalized attention from dedicated account managers and strategists, and the creative team works diligently to create appealing and engaging content.
Additionally, Voy Media offers one-on-one consultations to guide clients in their marketing decisions and provides instant insights on campaign performance, enabling clients to make well-informed business choices.
Overall, these 13 digital D2C marketing agencies are more than just service suppliers in the complex and constantly changing digital landscape—they are the designers of successful brands.
What to Consider Before Investing in a Marketing Agency?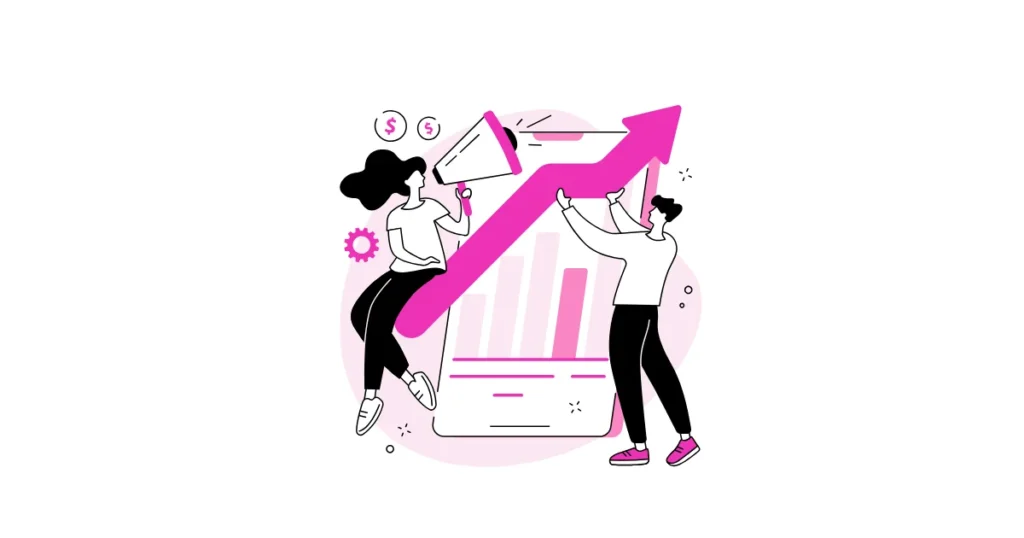 Opting for the correct firm is essential in the ever-changing realm of marketing. To pick the ideal marketing partner, consider important variables: budget, culture, geography, portfolio, social proof, timeframe, internal resources, and specialist demands.
1. Marketing Budget
Determine the amount you can spend on marketing services and look for agencies offering the best investment value. Choose services that align with your budget and provide the most effective results.
2. Culture and Personal Fit
Ensure your company's values align with the agency's culture. Think about how they work, communicate, and their overall approach. A strong partnership always boosts innovation and productivity, helping you achieve your goals.
3. Location
Although digital communication has made remote cooperation possible, the marketing agency's location still matters. Always consider cultural awareness and time zone differences that may affect project coordination and communication. Therefore, select a company that can efficiently work with your team regardless of distance.
4. Agency's Portfolio and Track Record
To determine the agency's level of experience and skill, consider the agency's track record and portfolio. Look for case studies, client recommendations, and examples of previous successful campaigns they have run. A strong track record shows their capacity to provide outcomes and manage various marketing problems.
5. Social Proof
Social proof, such as internet testimonials and reviews, can shed light on the agency's standing and level of client happiness. Platforms like Google, Yelp, and social media outlets can provide insightful client reviews, helping you evaluate the agency's legitimacy and dependability.
6. Your Timeline
Think about your marketing goals and business timetable. While some agencies might concentrate on long-term strategy, others offer rapid, short-term campaigns.
Align your objectives with the agency's list to make sure they can produce the desired results in the period you require.
7. Your Bandwidth
Evaluate the capacity of your resources. Establish the level of participation and assistance your team can offer the organization. While some companies might choose more cooperative collaborations, some prefer agencies that provide full-service solutions, managing everything from planning to implementation.
8. Need for Specialization
Different marketing companies have other areas of expertise, like SEO, social media, content marketing, or digital marketing. Determine your unique marketing requirements, then pick an agency with experience. By specializing, you can be confident that the marketing ideas you receive are focused and appropriate for your sector.
Choose Wisely: Partner With The Right D2C Marketing Agency
In conclusion, your company's success depends on your choice of marketing agency. Set a budget that fits your goals first, then look for an agency that provides the best value for your money.
For a successful relationship, consider their work culture and style and ensure they align with your business's principles. To evaluate their experience and dependability, view their location, portfolio, and social proof.
Additionally, ensure your timeframe and resources are by the agency's capabilities. If you require specialist services, seek D2C marketing agencies with expertise in your marketing field.
You may choose a marketing partner who will help your company succeed by carefully weighing these variables before choosing.
You can thank us later!
FAQs
Q1 How do D2C brands do marketing?
A1. D2C brands use influencers and social media to engage with customers online. By putting the needs of their customers first, they build brand awareness and loyalty through focused advertising, customer service, and a robust web presence.
Q2 How is D2C's direct-to-consumer distribution channel?
A2. Businesses that sell directly to customers (D2C) do so without intermediaries. Providing individualized experiences improves relationships, brand control, and product quality while establishing direct customer communication.
Q3 What are the basic branding fundamentals that can help D2C businesses to grow online?
A3. D2C companies concentrate on key branding components: distinct identity, audience comprehension, premium products, interesting websites, social media marketing, outstanding customer service, and customer feedback. These tactics foster relationships, trust, and brand loyalty—essential for online expansion.