SaaS Content Marketing Agency:14 Best Choices To Pick From
78% of SaaS businesses have expanded significantly with the help of smart content marketing agencies. That makes the investment worth it!
Do you also need help with content marketing for your SaaS company? SaaS content marketing agencies can come to your rescue. They have a track record in creating successful content strategies for the SaaS sector.
But, choosing the right one is challenging, and you may regret making the wrong choice. But don't worry, we've got your back!
In our guide, we have the definitive list of the top 14 SaaS content marketing companies.
Right here is where your success story begins!
Why Hire a SaaS Content Marketing Agency?
Effective marketing is essential for success in the competitive SaaS market. SaaS content marketing agencies can help navigate this landscape. With knowledge relevant to the SaaS industry, they generate leads, produce measurable outcomes, and ensure scalability. Let's look at the ability of agencies to transform your business.
1. Expertise in the SaaS Niche
SaaS content marketing agencies offer expert knowledge of the SaaS industry. They can create focused ads because they know the details of the industry. Also, they are familiar with their target market, and the competitive environment.
2. Effective Content Marketing
The foundation of effective SaaS marketing is creating captivating and appropriate content. Content marketing agencies are experts in producing content that connects with your audience. They inform the audience about your product or service, and encourage purchases.
3. Lead Generation
Lead generation is crucial for SaaS companies. SaaS content marketing companies have skills to attract prospects. It includes use of gated content, webinars, and email campaigns
4. Time and Resource Efficiency
Hiring professionals to handle your content marketing frees up your in-house staff's time so they can concentrate on creating your product and providing better customer service.
5. Measurable Results
These agencies use data-driven strategies which give you exact analytics to compare success..
6. Scalability
Your marketing requirements expand along with your SaaS company. SaaS content marketing agencies can scale and change their techniques to meet your changing needs.
14 Best SaaS Content Marketing Agencies
SaaS content marketing is a specialized field due to the highly competitive nature of the SaaS industry, the constant need to engage a tech-savvy audience, and the requirement for personalized marketing methods.
SaaS Content Marketing Agencies offer their skills to help SaaS companies excel in their field.
We look at SaaS content marketing firms and offer in-depth analyses of 14 leading firms. These agencies are ideal partners for SaaS companies trying to succeed because they bring their distinct capabilities, strategies, and services to the table.
1. DesignScript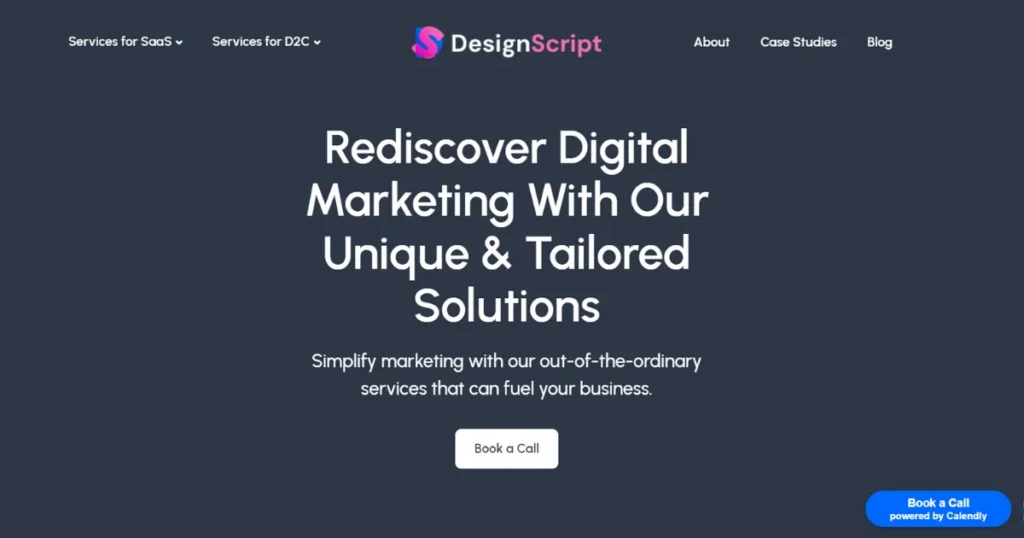 DesignScript is the best for SaaS or D2C companies looking for a dedicated partner to elevate their digital presence.
With our SEO Mastery, we boost site visibility and help rank at the top of search results. Next, our PPC Expertise helps drive immediate traffic and get maximum ROI on ad spend. Talking about content marketing, our agency has a team of experts who can engage and captivate your target audience with tailor-made, compelling content that converts.
In addition to content marketing, we enable turning visitors into loyal customers with proven Conversion Rate Optimization strategies.
Catering primarily to the USA, UK, and India, we're committed to becoming your trusted go-to solution for all things related to digital marketing!
Best for the marketing needs of startups & medium-sized businesses
Strengths: Excellent service, SEO expertise, analytical approach, fetches High ROI, provides increased brand presence
Industries: SaaS & D2C
2. Single Grain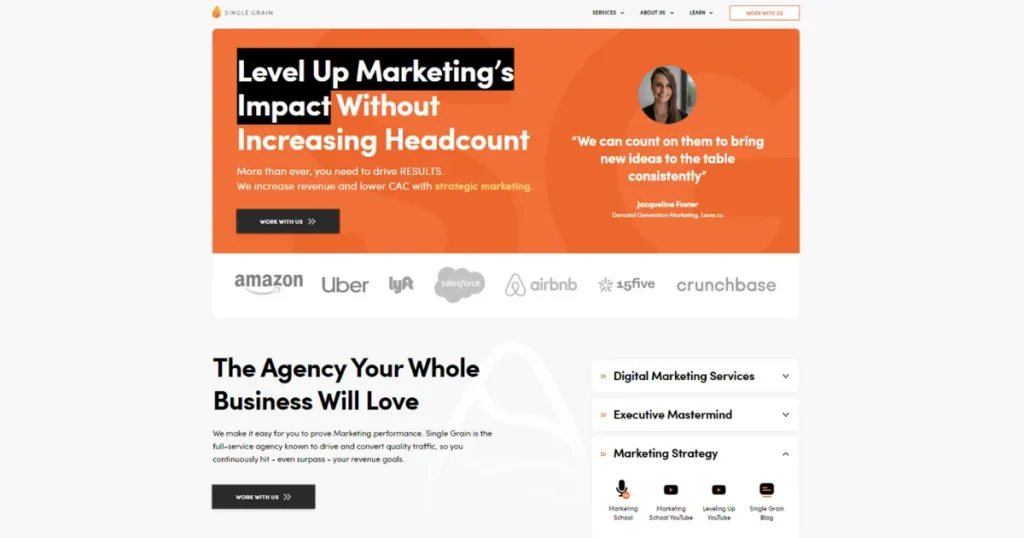 A full-service digital marketing company called Single Grain has a track record of helping SaaS firms expand significantly with the help of a detailed marketing plan.
As they specialize in content marketing, SEO, and paid advertising they are a one-shop-stop.
Single Grain's remarkable portfolio of SaaS clients shows its competence in this highly competitive field. SaaS organizations may effectively reach their target audience thanks to their ability to blend content marketing with other important methods like SEO and paid advertising.
Best for SaaS startups.
Strengths: Proven Track Record, Full-Service Offerings, High-ROI Marketing Initiatives Industries: SaaS, B2B
3. Simple Tiger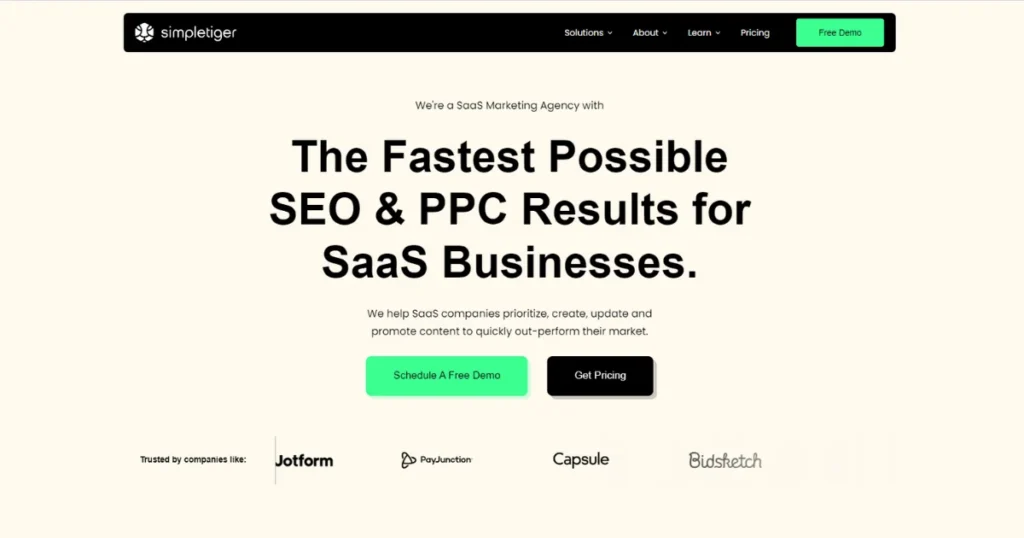 Simple Tiger distinguishes itself by focusing on SEO-driven content marketing designed exclusively for SaaS companies. Their distinctive strategy emphasizes raising search engine rankings and improving traffic.
Visibility is crucial in the competitive SaaS sector, and Simple Tiger shines in this area. The agency assists SaaS companies to improve their search engine rankings. Also, there's help to boost online traffic and brand awareness.
Simple Tiger helps businesses rank higher on search engines and interact with a larger audience. This results in paced growth and success by fusing SEO insights with content marketing methods.

Best for SEO-Driven Content Marketing Tailored for SaaS Companies
Strengths: Increased Search Engine Rankings, Spontaneously Occurring Traffic, Enhanced Visibility
Industries: SaaS, B2B
4. The Shelf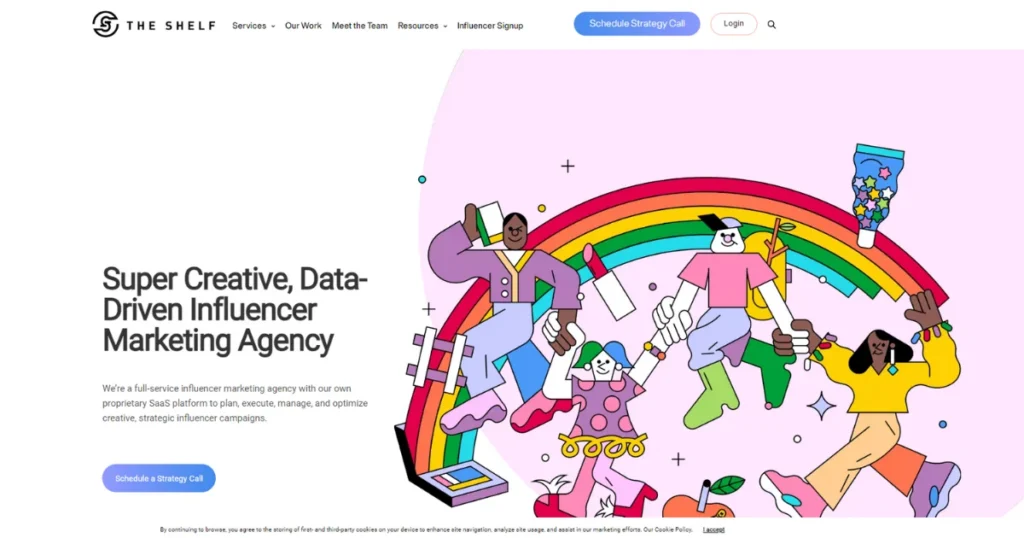 With its innovative integration of influencer marketing into its offerings, The Shelf emerges as a significant player in the content marketing industry. It is an agency that caters to SaaS businesses and focuses on creating brand and influencer relationships.
The Shelf's expertise changes the game for SaaS businesses in the digital ecosystem, where influencers significantly impact consumer choices. SaaS companies can effectively market their goods by utilizing influencers' broad reach and high levels of engagement.
These businesses may reach new audiences, build brand awareness, and develop deep relationships with potential customers thanks to their strategic partnerships with influencers. This ultimately helps them become more visible in the market and grow their businesses.
Best for Integrating Influencer Marketing for SaaS Businesses
Strengths: Influencer Partnerships, Broad Reach, Increased Brand Awareness
Industries: SaaS, B2B
4. Bay Leaf Digital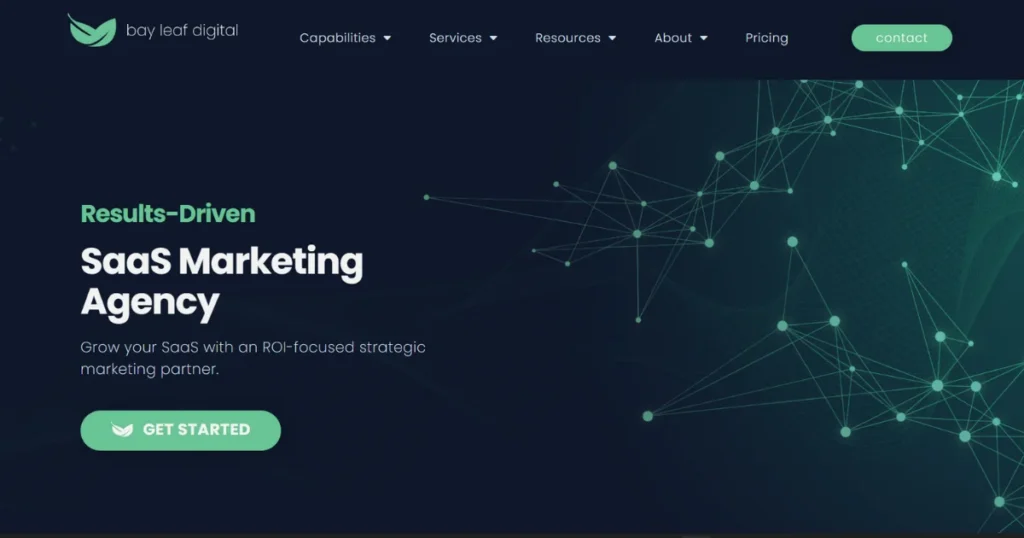 Bay Leaf Digital sets itself apart by its in-depth knowledge of B2B SaaS marketing. They have an understanding of the complex dynamics of this niche.
Bay Leaf Digital crafts its services like paid ad, lead generation and content marketing to meet goals of B2B commerce prospects..
The agency provides specific solutions because it knows B2B SaaS companies' particular difficulties. Their strategic initiatives enable SaaS businesses in this sector to influence decision-makers efficiently.
Bay Leaf Digital plays a crucial role in improving the market presence and profitability of B2B SaaS enterprises, assuring their continued growth in a competitive environment.
Best for In-Depth B2B SaaS Marketing Expertise
Strengths: Specialized B2B Solutions, Lead Generation, Improved Market Presence
Industries: B2B SaaS, Technology
6. Uplift Content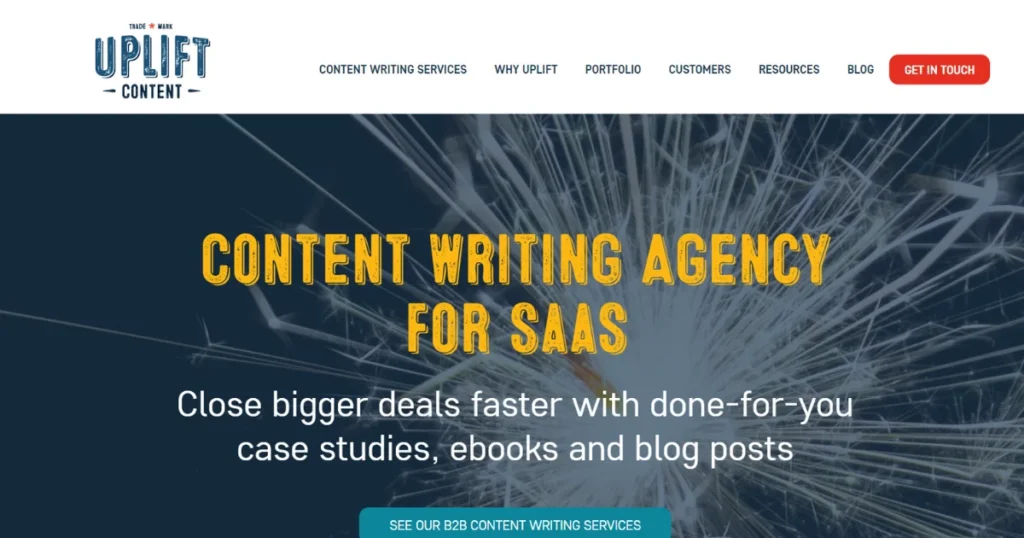 Uplift Content provides engaging blog posts, instructive ebooks, and thorough whitepapers focusing on content strategy and creation specifically targeted toward SaaS firms and their target market.
In the digital world, content is king, and Uplift Content is at the fore, producing engaging and educational content. SaaS organizations give potential customers confidence because of their commitment to creating high-quality content, differentiating them as leaders in the sector.
SaaS businesses can enter the digital world with Uplift Content while having a lasting effect on their audience.

Best for Engaging and Educational Content Tailored for SaaS Firms
Strengths: Engaging Blog Posts, Informative Ebooks, Establishing Thought Leadership
Industries: SaaS, Technology
7. Accelerate Agency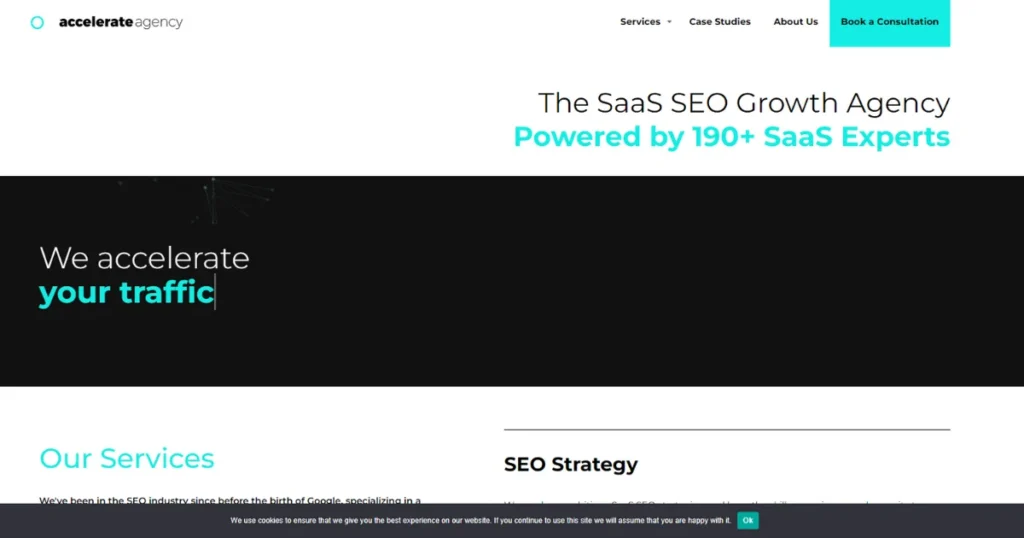 Accelerate Agency, a leader in digital marketing expertise, positions itself as a complete solution provider for SaaS businesses looking to succeed online. Their wide range of services, which include lead generation, social media marketing, and content marketing, place them in an excellent position to work with clients on comprehensive growth strategies.
With knowledge in many digital marketing areas, Accelerate Agency ensures that SaaS companies have a comprehensive strategy. They build an effective online presence through the creation of engaging content and the generation of high-quality leads.
By providing a detailed solution, Accelerate Agency provides SaaS businesses the resources they need to successfully move into the challenging digital world, promoting exposure, engagement, and long-term growth.
Best for Comprehensive Digital Marketing Solutions for SaaS Companies
Strengths: Complete Range of Services, Intriguing Content Creation, High-Quality Lead Generation
Industries: SaaS, Technology
8. Animalz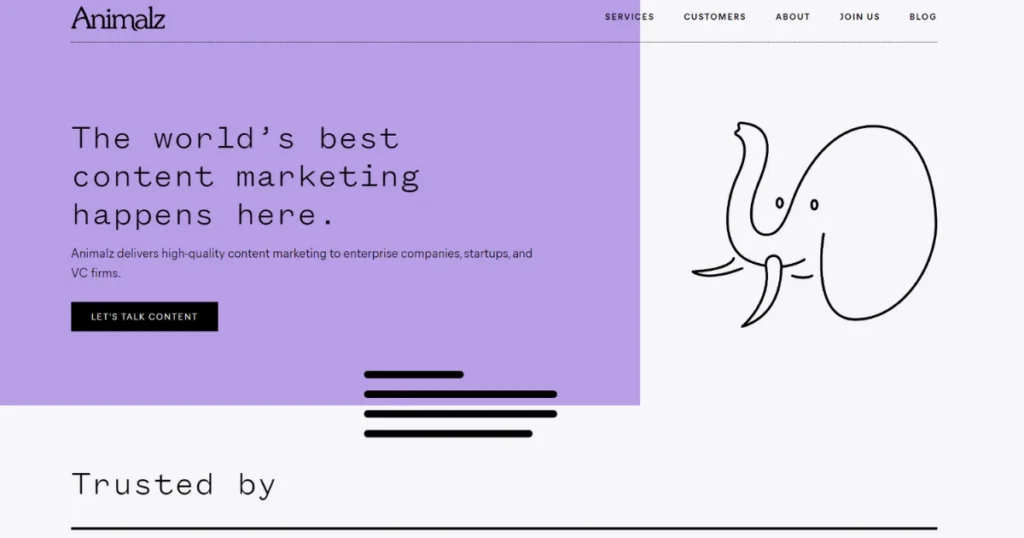 Precision and credibility are essential in SaaS content marketing, and Animalz is a shining example of these qualities. This powerhouse in content marketing takes great satisfaction in producing top-notch, data-driven content.
Animalz uses the power of data to engage with the audiences of SaaS firms.
It recognizes the crucial role data plays in the digital ecosystem. Their committed group of talented writers and strategists puts a lot of work into producing material that is not only captivating but also resonates with knowledge and understanding.
Animalz is a dependable partner for SaaS companies looking to have a lasting impact.
They combine creativity with a data-driven strategy that informs and establishes authority and confidence.
Best for Data-Driven Content Marketing Excellence
Strengths: Top-notch, Data-Driven Content, Audience Engagement, Thought Leadership
Industries: SaaS, Technology
9. Campfire Labs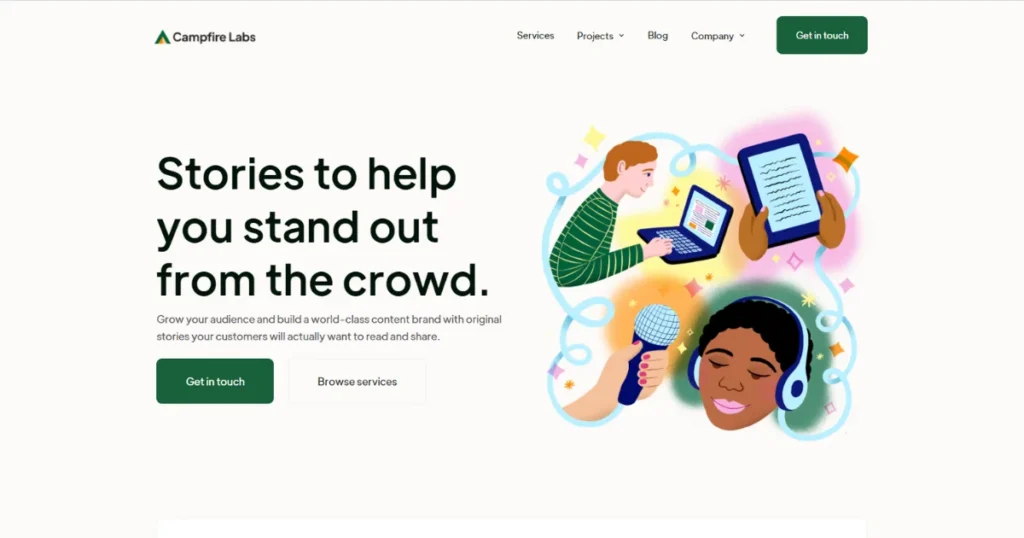 Campfire Labs are famous as a leader in content strategy and development for SaaS brands in the digital age.
They go deeply into the art of storytelling with a sharp focus on developing fascinating narratives and producing materials that form strong bonds with the target audience.
Campfire Labs is aware that the power of storytelling is essential for engaging audiences. SaaS organizations may fascinate their clients and establish long-lasting connections, increasing consumer commitment by seamlessly integrating these narratives into their content.
Campfire Labs catalyzes SaaS companies, enabling them to move through the digital terrain with a compelling narrative at a time when meaningful connections define brand loyalty.
Best for: Evocative Storytelling in SaaS Content Marketing
Strengths: Compelling Narratives, Building Emotional Connections, Enhancing Consumer Commitment
Industries: SaaS, Technology
10. Codeless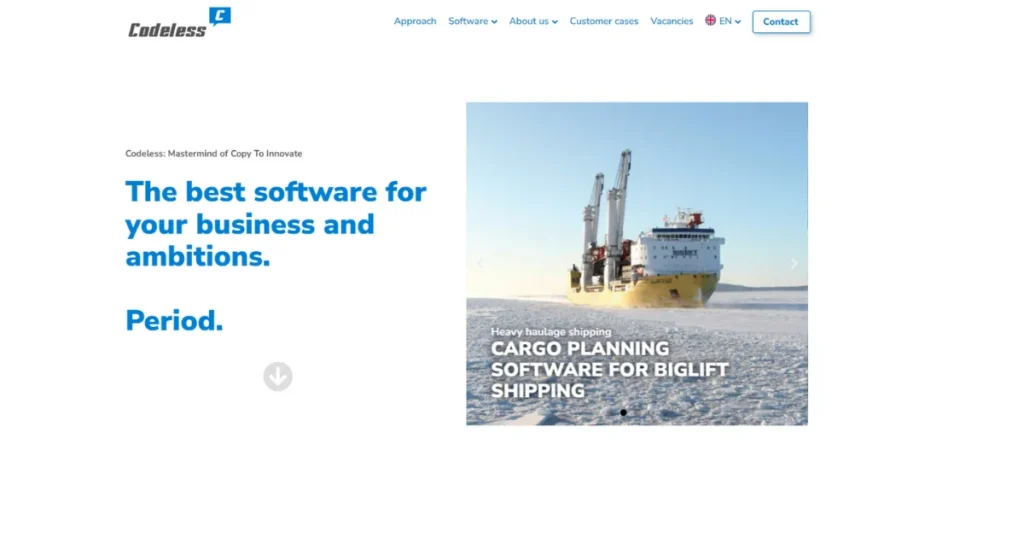 Codeless stands out as a leader in the digital sphere, where visibility is crucial, and is known for its proficiency in SEO and content marketing designed for SaaS businesses.
They provide a wide range of services, including carefully prepared blog articles, insightful ebooks, and visually stunning infographics, concentrating on the requirements of SaaS enterprises.
Codeless is aware that SEO is the foundation of online visibility. The content strategies used are carefully created to increase inbound traffic and conversions for SaaS firms by engaging readers and improving search engine rankings.
With Codeless in charge, SaaS businesses have reliable support committed to boosting online visibility and ensuring sustainable growth in the digital environment.
Best for SEO and Content Marketing Excellence for SaaS Businesses
Strengths: Enhanced Search Engine Rankings, Visually Appealing Infographics, Engaging Blog Articles
Industries: SaaS, Technology
11. Content Allies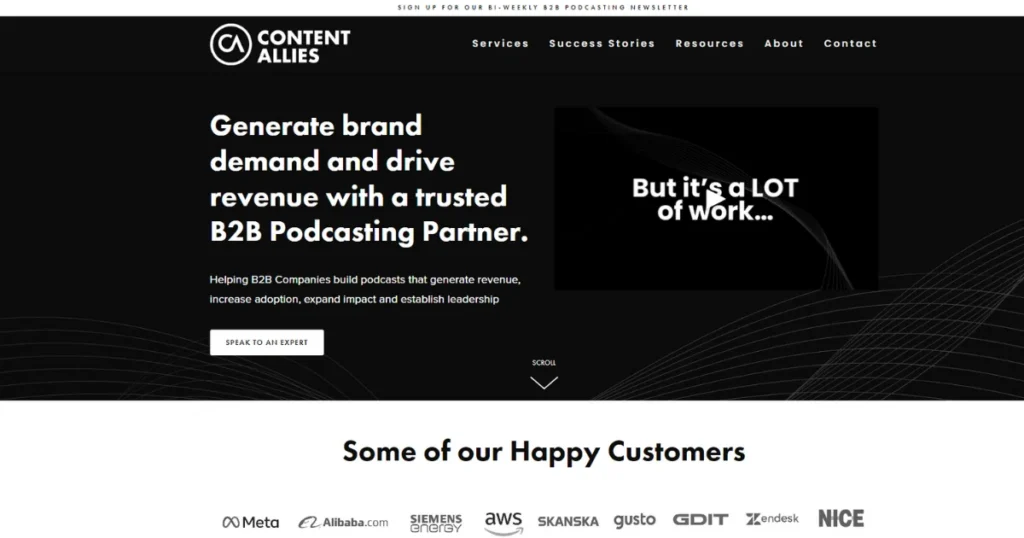 In the intensely competitive SaaS industry, Content Allies stands out as a leader in innovation because of its focus on encouraging forward-thinking behavior among SaaS businesses.
Their expertise is in producing in-depth, well-researched blog posts and other materials that establish SaaS companies as authorities in their domains. In the SaaS industry, thought leadership establishment is crucial, and Content Allies specializes in enabling companies to stand out as leaders in their fields.
Content Allies propels SaaS businesses toward industry leadership and long-term success.

Best for Encouraging Forward-Thinking Behavior Among SaaS Companies
Strengths: In-Depth Blog Posts, Thought Leadership, Establishing Authority in SaaS Domains
Industries: SaaS, Technology
12. Flying Cat Marketing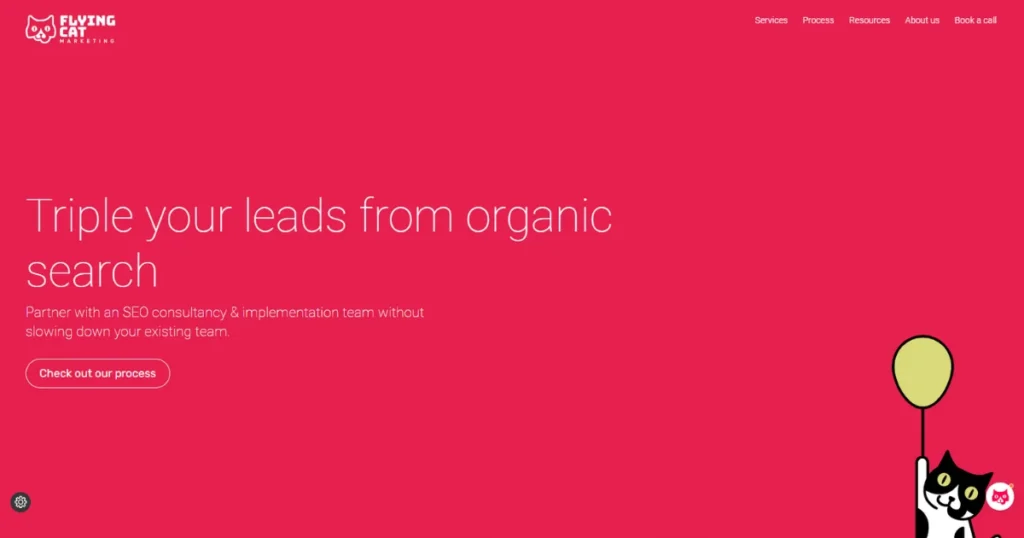 With its customized SEO and content marketing services carefully designed for SaaS enterprises, Flying Cat Marketing soars above the competition.
Recognizing the critical necessity of measurable results, they excel at content optimization for lead generation and conversion, precisely lining up with the ultimate goal of the SaaS sector: conversions.
Their strategy is focused, and they produce content that turns prospects into paying clients by attracting them and flawlessly guiding them through the buying process.
The specialized tactics of Flying Cat Marketing serve as a link between SaaS companies and their objectives, assuring not just visibility but also long-term growth and profitability in the digital world.
Best for: Customized SEO and Content Marketing for SaaS Enterprises
Strengths: Measurable Results, Content Optimization for Lead Generation, Guiding Prospects to Conversions
Industries: SaaS, Technology
13. Omniscient Digital
Omniscient Digital, a premier full-service digital marketing firm, strongly emphasizes content marketing that is especially suited for SaaS businesses. Their strategy goes beyond the norm; they work closely with SaaS companies, utilizing content in a data-supported, strategic way to drive growth.
The content methods used by Omniscient Digital match each element with the objectives of SaaS organizations, demonstrating their dedication to promoting progress. They ensure that every piece of content helps SaaS firms to flourish, broaden their reach, and reach unmatched heights.
Best for Data-Supported, Strategic Content Marketing for SaaS Growth
Strengths: Data-driven content Strategies, Exponential Development, Strategic Content Integration
Industries: SaaS, B2B
14. Refine Labs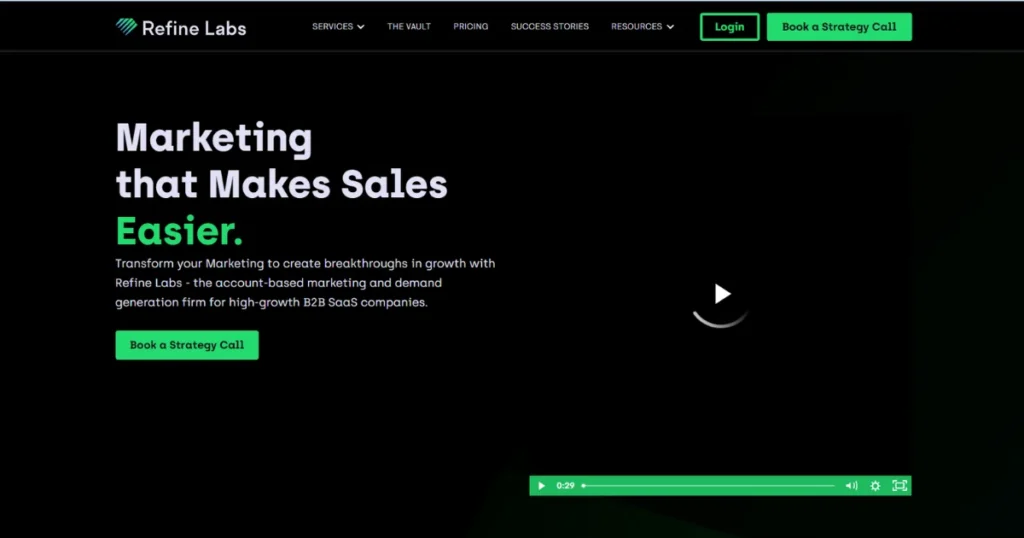 Refine Labs is a leader in SaaS growth, specializing in demand-generation tactics that support company growth. Their expertise is creating carefully thought-out customized content marketing services that increase income.
Demand generation is crucial in the SaaS market, and Refine Labs stands out as a trustworthy partner that can deliver measurable results. Their expert knowledge of this industry and strength in content marketing enables SaaS businesses to scale effectively.
With Refine Labs in charge, SaaS companies can successfully position themselves as leaders in their field.
Best for Demand Generation Tactics Supporting SaaS Growth
Strengths: Customized Demand Generation, Increasing Revenue, Quantifiable Results
Industries: SaaS, Technology
By carefully analyzing your specific requirements, goals, and target market, you may select the agency that most closely matches your demands.
These agencies have the resources, knowledge, and desire to help you achieve your goals, whether to increase brand recognition, engage your audience, increase conversions, or achieve overall success.
The appropriate content marketing partner will help you on the path to online success in the competitive SaaS market.
How Do You Pick a SaaS Content Marketing Company?
Choosing the best SaaS content marketing agency can significantly impact your company's performance. It's crucial to adopt a strategic strategy considering many elements to make an informed decision.
Let's examine important factors for picking the ideal SaaS content marketing agency
1. Define Your Objectives and Goals
Before beginning your search for a content marketing agency, thoroughly outline your business objectives, target market, and marketing objectives. Are you trying to build your authority in your field through lead generation, brand awareness, or content creation?
It's essential to have a clear grasp of your needs.
2. Assess Your Marketing Needs
Sift through your present promotional efforts to identify gaps where a SaaS content marketing company can assist. You may need to post high-quality material to your blog regularly, or your website needs to be optimized for search engines.
Understanding your needs will enable you to choose the agency that will help you the most in achieving your objectives.
3. Consider Your Budget
Establish your marketing budget. Also, look for companies that can provide services within your budget. While controlling expenses is crucial, remember that spending money on high-quality content can have a significant long-term impact.
Compare the agency's potential to provide results with your budge
4. Assess Industry Knowledge and Experience
Find companies that have experience in the SaaS industry. Experience in the industry guarantees that they are aware of your specific problems, target market, and rivals.
It also implies that they are knowledgeable about laws and regulations that could impact SaaS marketing.
5. Assess Content Production and Strategy Skills
Content is central to content marketing, so evaluating your content production and strategy skills is essential.
To evaluate the quality and variety of the agency's material, look at their portfolio.
Examine their capacity to produce audience-relevant blog articles, ebooks, videos, webinars, and other content types. Long-term success requires a comprehensive content strategy.
6. Check Analytical and Reporting Skills
In content marketing, data-driven decision-making is essential. Ensure the agency offers thorough data and reports to evaluate the success of their approaches.
Key performance indicators (KPIs) should be monitored, including web traffic, conversion rates, and engagement metrics.
You can use this information to determine what is working and needs to be adjusted.
In the final analysis, carefully considering the best SaaS content marketing agency is necessary. You may make an informed choice that supports your business objectives by defining your goals, evaluating your needs, considering your budget, reviewing your industry expertise, and assessing your content production and analytics capabilities.
Remember that a wisely-picked agency might be essential to success and growth in the competitive SaaS market.
Choose The Best SaaS Content Marketing Agency
In conclusion, finding the best SaaS content marketing agency involves choosing a strategic partner rather than just a service provider. With the right agency on your side, you can successfully navigate the SaaS market, turning your online presence into a light of success. Make informed decisions and see your SaaS dreams come true.
Start by understanding the specific requirements of your SaaS organization before making this choice. Are you aiming to increase organic traffic, produce quality leads, or create unshakeable thought leadership? Your objectives should be in line with the agency's areas of strength and track record.
Budget concerns are crucial, but remember that quality frequently comes out over quantity. Spending less on content marketing today could cost you a lot more later.
Look for a team passionate about SaaS, thoroughly understanding your target market, and skilled at creating content that resonates.
All the best with content marketing!
FAQ's
1. What are the benefits of hiring a SaaS content marketing agency?
Hiring a SaaS content marketing agency gives your company's promotional efforts specialized knowledge, successful content marketing, lead creation, resource efficiency, measured outcomes, and scalability.
2. What type of content does a SaaS content marketing agency create?
SaaS content marketing companies produce a wide variety of material, including blog posts, ebooks, whitepapers, videos, infographics, social media postings, and more, all designed to engage and convert your target audience.
3. What results can I expect from hiring a SaaS content marketing agency?
Hiring a SaaS content marketing agency can increase your SaaS company's customer engagement, brand recognition, organic traffic, lead generation, and revenue and growth.